Well, that is something that I call unusually sensuous and hot!! Secret Male Underwear has finally come with a new collection and we can't keep calm about it. The men's sexy underwear brand came into the industry with the revolutionary men's panties and bras for men that took the world by its storm. Some appreciated the styles, some loved it and some felt disgusted but the label continues to spread the love for the unmentionables with a chic and fashionable collection of underwear for men. Indeed, the thought worked and men indicated such a great amount of affection to the brand for bringing progressive style to their doorstep. With each fresh debut assortment, Secret Male has improved and this item is unquestionably one of them. The men's hot underwear brand introduced a new collection and Lunaria g-string underwear for men is one of them. We'll be talking about the same product in this blog.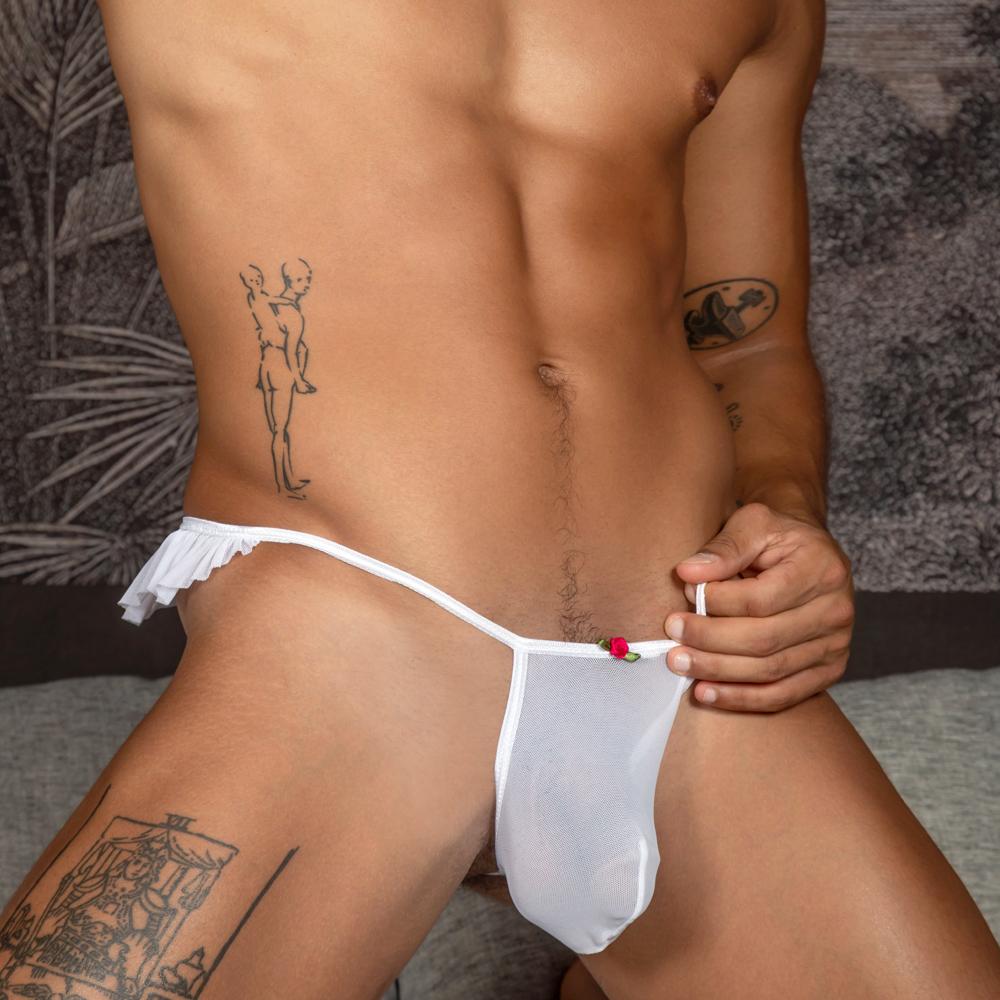 This men's g-string underwear by Secret Male is your one-stop objective if you have been feeling the need for sexiness and self-love. With an intricate and barely-there design that holds you up, pampers, and caresses your manhood. The thin waistband to start with the features is something that looks fragile yet holds up the weight of your manhood really well. To add to the elegance, the tiny flower in the center looks stunning. The men's pouch enhancing underwear is made with sheer fabric that contours and holds you well. The sheer underwear for men also benefits the manhood in providing the best comfort by letting them breathe well.
Now, if you flip the male g-strings, you'd see that there's frill design on both the buttocks to make your personality look stunning and add to the charm of the men's erotic underwear. Made with polyamide and spandex combination, you are in for stretch and lustrous texture.
Key features of the men's g-string underwear by Secret Male
Delicate and fragile structured men's g-strings
Made by Secret Male Underwear
Men's lingerie that looks sexy and feels sensuous
String waistband that stays low on the body
Sheer underwear pouch that contours the manhood well
Fabric composition: Polyamide and spandex
Colors
Black, Red, and White

Shop the male lingerie style here – https://www.skiviez.com/products/secret-male-sml012-lunaria-g-string?variant=31724556451863
Read more here:
6 Features That Proves Men's Thong Underwear "the Best"
What to Look for While Buying Men's G-string Underwear?
What Are the Things You Must Know About Men's G-string Underwear?
Some Quick Lessons About Men's Thong Underwear