Who doesn't like prizes and being popular at the same time? Well! Without a doubt, I wouldn't pass up the chance to become famous, especially if it was free. Mensuas is currently performing that precise action. You may become famous with just one click thanks to Mensuas, the go-to online retailer for men's underwear.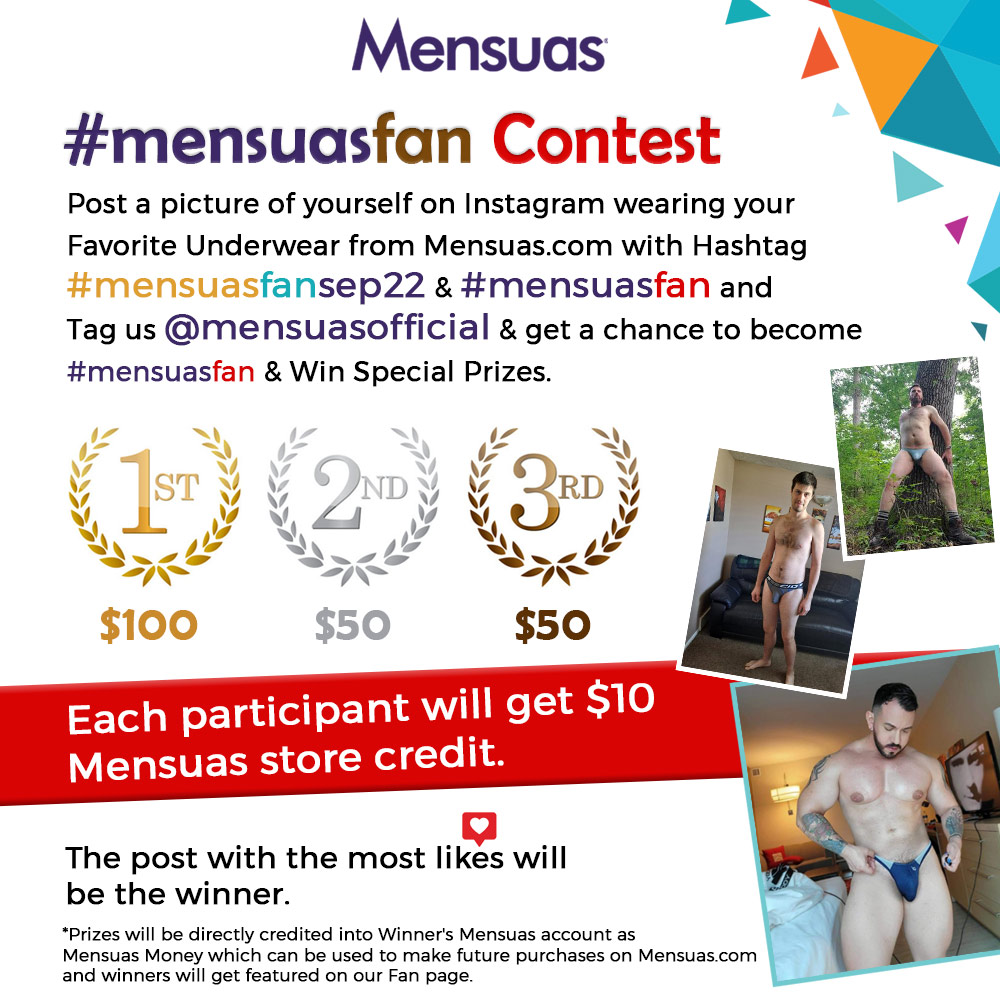 In this blog, we will take a look at the know-how guide to entering the contest and winning it. Let us go forth and check the deets out.
How To Enter The Contest?
Upload a photo of yourself sporting your preferred fashionable underwear from Mensuas to your Instagram account.
Add #mensuasfansep22 and #mensuasfan as your hashtags.
Tag Mensuas @mensuasofficial.
In the future Mensuas Fan Contest editions, you may show off your excitement for having fun and dressing stylishly. Additionally, you have the opportunity to share your love of men's underwear and all things related. Every man can display his underwear while competing for enticing rewards that can be used to buy anything from the online store of men's underwear and swimwear.
Choose any pair of men's underwear from the mens underwear online store, such as briefs, thongs, bikinis, or anything else. Additionally, take selfies or have your picture taken anyplace you believe will attract the most Instagram likes, such as in the bathroom, garden, etc. The first prize will go to the post with the most likes.
Prizes To Be Won
1st Prize: $100
2nd Prize: $50
3rd Prize: $50
That's not it! Every participant will win a consolation prize of $10 in the Mensuas account as Mensuas Money. This way, every participant can celebrate their participation in the Fan Contest.
Terms & Conditions
Your face and body must be visible in the photograph; however, full nudity is not permitted.
The Instagram post with the most likes at the end of voting will be declared the winner.
Any entries received after September 30, 2022, will not be acknowledged.
No reward, in whole or in part, may be transferred or redeemed for cash.
The entire prize sum will be deposited as "MENSUAS MONEY" into the winner's Mensuas account.
Mensuas holds all legal rights in reserve. Mensuas may, therefore, modify the terms at any time and disqualify entries without prior warning.
The age requirement to enter this contest is 18 as of the entry deadline.
To promote on their social media accounts, Mensuas has the right to edit, adapt, and modify entries' Instagram posts.
We will reveal the Mensuas Fan Contest aficionado who has received the most likes on their Instagram post on October 14th.
To increase the number of likes on their Instagram post, contestants can share them on other social networking sites.
So, if you are a mens underwear fan, then this fan contest is for you. Go on Mensuas Fan Page here https://www.mensuas.com/pages/mensuasfan and have a better understanding.
Good Luck underwear lovers!!
You May Also Like
Mens Jockstrap Underwear Are Macho – Know More!
Men Should Be Aware Of These Core Essentials Of The Men's Bikini Underwear
Perks of Shopping Mens Underwear From The Labor Day Sale
Men's Briefs Will Always Be A Man's Favorite For Labor Day – Know More!