Image Source: Mensuas
"All you need is love. But a little chocolate now and then doesn't hurt"-Charles M. Schulz, Cartoonist
And apart from that to make your Valentine's Day more special you require good confidence after all you be wearing erotic underwear styles. Don't tell us, you were thinking to wear styles like briefs or boxers underwear !
St Valentine's Day(14th Feb) is a yearly celebration celebrate romantic love, friendship, and admiration. People celebrate Valentine's Day by sending messages of adoration and love to accomplices, family, and friends. It wasn't until over 200 years after the fact that 14 February was declared St Valentine's Day. At this point, Rome had become Christian and the Catholic Church was determined to stamp out any remaining paganism.
You will be surprised to know that it was poet Chaucer in the Middle Ages who link St Valentine with romantic love. Well, this was the start of the tradition of courtly love, a ritual of expressing love and admiration, but in secret.
Every year couples celebrate this romantic day by going for dinner, watching a movie together, or by visiting some resort and spend some quality time together. This year we suggest you celebrate Valentine's Day in a slightly different manner i.e. by wearing sexy male lingerie like men's thong underwear, men's sheer underwear, men's lace underwear, and men's mesh underwear. You can even pick bikini underwear for men.
But how?
1. Cook "dish of kisses" for breakfast
As usual, you must be thinking of booking a table of two this Valentine, don't do that. Invite your partner the day before the main occasion and will inviting her to your place don't be that boring man. Be a little romantic and creative. Send her a bouquet and write a short note for her like"come soon, I am missing your fragrance." or "come soon, can't wait to see your face".you know something that brings a smile to her face.
Start your day with a nice breakfast cooked together. Once it's good to have, don't forget to sprinkle some kisses over the dish. On usual days you might prefer wearing trousers and a T-shirt while cooking, this Valentine's Day give them a break and go with just a pair of men's thong underwear. If you want you can pair it up with a nice tank top, however, that's not a compulsion.
2. Let your lunch be slightly naughty
To make your lunch time slightly naughty, either you can wear a pair of men's jockstrap crafted in a sexy fabric or can pick any style from the men's see-through underwear range. And, if you feel your physique is not good enough for such styles, well, in that case just for Valentine's day keep the doubting factor aside. Wear these male lingerie styles with utmost confidence.
Lingerie fabrics that suit Valentine's Day are mesh, sheer, and lace, and the colors that make your lingerie hot as hell are Black, Red, and Navy Blue.
3. Candle light dinner with naughty desserts
To end your day on a sweet note, candlelight dinner and naughty desserts like "Between-the-Sheets Raspberry Slab Pie" and "Caramel Toffee Better Than Sex Cake". And to cherish such delicious desserts, you can't be wearing styles like men's brief underwear and boxers.
Make your candlelight dinner erotic with styles like lace underwear and mens mesh underwear.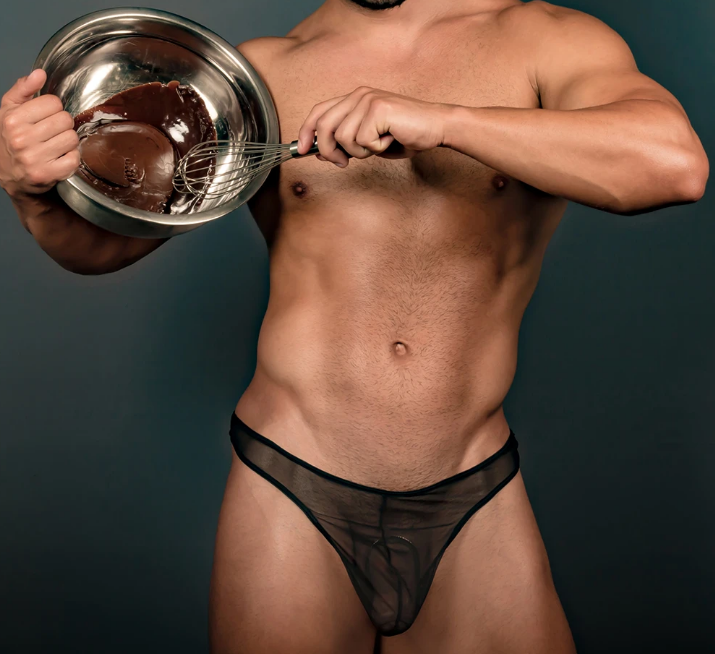 So what are you waiting for? Go and shop your favorite styles of male lingerie before they get out of stock. 
You May Also Like:
What men's underwear style you should wear at home?
Looking For Men's Erotic Underwear? Consider These Three Brands
Are you updated with the Men's Underwear?
Are you updated with the Men's Underwear? – Part 2
Why is the men's g-string underwear range by Good Devil worth a try?