The Highlights Of The Men's Boxer Trunk
Agacio Racer Boxer Trunk is a simple-looking mens boxer trunk. It decently covers your body parts. This pair of mens underwear includes a pouch, waistband, and contrast colored piping on the edge of underwear as well as near the pouch area.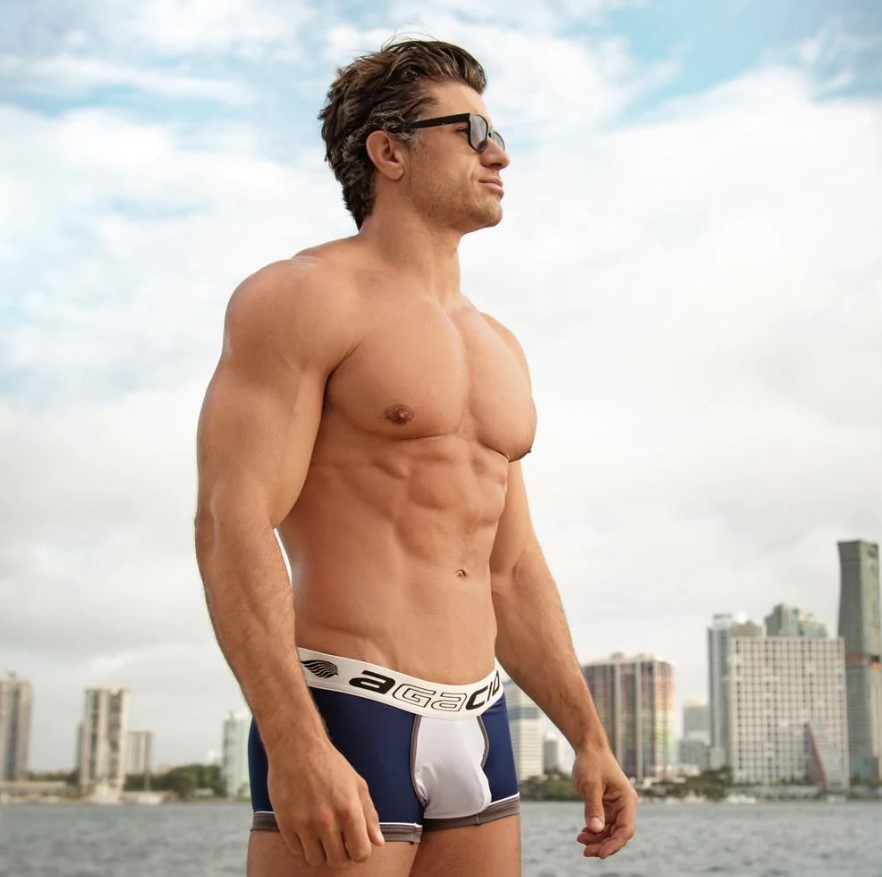 About The Brand
The word Agacio is pronounced as "AgaSSIO", which in Greek means "God". Agacio was introduced in the industry in 2013.
"Designed by men for men", is what defines Agacio. Agacio is a brand that follows a simple mantra " when it's about creating different styles of men's underwear, it should be done by men and not by women. Not because they hate women, it's because they believe only a man can understand the needs of other men.
Only a man can understand what type of features should be included in mens underwear so that wearers can feel supported and protected. As a brand, they make sure that whichever style they are creating should be good for the wearers and is capable of providing the right comfort, enhancement, and support. 
There are other interesting facts about Agacio that you can read by clicking on the link mentioned below.
About The Men's Underwear
Agacio Racer mens Boxer Trunk is comfortable, supportive, and apt for your everyday comfort. One can pursue its everyday activities wearing this particular men's underwear . This pair of underwear is more appropriate for the ones who feel uncomfortable in styles such as Male Bikini, Male thongs, Men's Jocks, and in Men's Jockstrap Thong.
This classic pair comes with a contour pouch, designed from a contrast colored fabric which enhances the personality of your underwear. The contrast-colored piping added on the edge makes it one-of-the-kind.
FRONT
Regardless of the occasion, one can consider pairing this style with their outfits due to the fabric composition used in it,
Polyamide-spandex and due to this deadly collaboration, you can think of working out wearing this men's boxer trunk . Its broad waistband resides at the waist level gently. 
This mens underwear has been designed in various colors and sizes. Men who are planning to ditch styles like men's thong and male bikini for their beach time in coming summers and thinking of switching to Agacio Racer Boxer Trunk, well we are not so sure about it. For beach time, this might look a bit old school.
Features:
1.Comfortable, supportive and lightweight
2.Include contrast colored piping.
3.Contour pouch designed in contrast colored fabric
4.Easy to carry
5.Simple and elegant
6.Available in various colors
7.Available in all sizes
8.Suits all body type
To know more, click on the link below
https://www.mensuas.com/blogs/new-launches/racer-boxer-trunk-for-men-a-new-way-to-live-a-better-life
Fabric Used
Polyamide – spandex
Colors Available
Grey/Navy
Navy/White
White/Black
Sizes
Small
Medium
Large
Xlarge
Price
$21.75
Buy It Here:
Mensuas: Agacio AGG043 Racer Boxer Trunk
Agacio: Agacio AGG043 Racer Boxer Trunk
Skiviez: Agacio AGG043 Racer Boxer Trunk
You May Also Like
Why Men's g-string underwear is underrated?
Why celebrating Thanksgiving with wine and men's thong a good idea?
6 underwear for men to feel good on Thanksgiving
6 men's erotic underwear to choose for special events