The Highlights Of The Mens Bikini Underwear
If you are ready to be amazed by the sexiness and the skimpiness offered by Daniel Alexander, this male bikini is for you. The Wave Bikini by the label is a stunning pair that is high on exposure, sex appeal, and style. With a design that looks exquisite, this mens underwear was recently launched by the brand.
In terms of characteristics, this exotic set of underwear has a low waist and a contour pouch that tenderly cradles your manhood. Men's skimpy wave bikini underwear has no back fabric, exposing your butt to great effect. If you become familiar with this pair of underwear, things will become easier for men who initially think it would be challenging to handle. It's a lightweight design that makes you feel exposed there.
This set of male underwear is perfect for the beach and the summer. This little bikini underwear for men comes with a label on your pouch because designers are aware of how it feels to live in male lingerie with annoying labels.
Mentioned below are the key features of the male bikini:
Extremely low rise fit on the body
Delicate Aztec print
Sheer underwear for men with see-through properties
Contouring pouch that holds and supports the manhood
Cheeky bikini coverage in the back
About The Brand
Daniel Alexander is a company that creates trendy and useful men's underwear. Since 2015, Daniel Alexander has worked in the field. The distinctiveness and youthfulness of Daniel Alexander's men's underwear styles set it apart from other men's sexy underwear businesses. Their designs have given men's underwear a special definition that the entire male community adores.
The brand has been providing the entire male species with excellent underwear that can be admired and recognized for its delicate quality and offers the proper support to male genitalia so they can compromise on their sex appeal and comfort.
Men's thongs, men's briefs, men's bikinis, and men's bikini briefs are just a few of the options available to you, all of which are lovingly and passionately made. When you wish to fall in love with your beneath-the-belt fashion statement, Daniel Alexander is the ideal partner and should be given a chance. When you shop the underwear options at Daniel Alexander, you will have the choice to invest in exotic styles that are created from premium materials and provide astounding sex appeal.
About The Mens Lingerie
The sexiest underwear for guys in the undergarments category is a men's bikini, which has a beautiful design, a terrific fit, and a rich appearance. Speaking of the goods, you are provided with a sleek design pouch at the front of this hot male wave bikini to support your tool, which is optionally separated into two pieces. Because of the mesh pouch style design, your genitals receive fresh air, and the lower pouch is a sheer kind pouch that allows viewers to glimpse through your asset in a sexy way. For a strong and secure hold, the strap horizontally divides the upper portion of the pouch. So, you get a variety of underwear styles and attributes in a single piece of men's underwear. Not bad, huh?
Fabric Used
The superior material used in hot underwear for men is blended with spandex and polyamide to ensure that you receive the most value for your money, which is what we all want, right?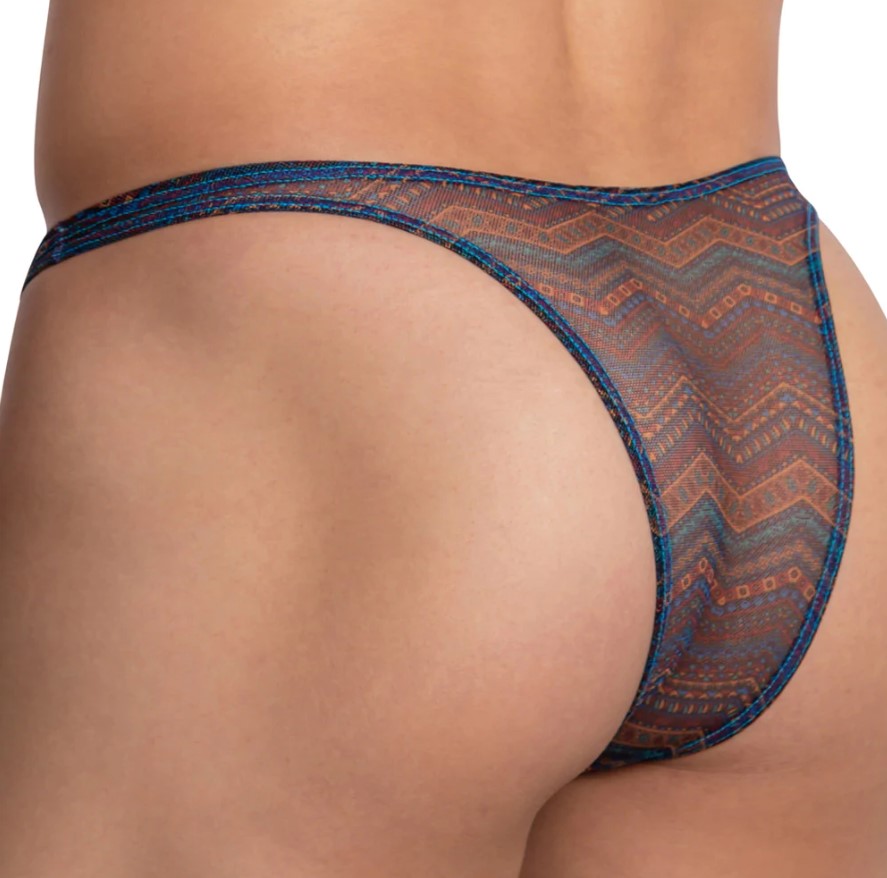 This male bikini's usage of polyester and spandex also makes sure that your equipment has access to sufficient ventilation and cool air, so you shouldn't perspire all day.
Colors in Men's Bikini Underwear
The single printed variant is available in the men wave bikini.
Sizes
Small
Medium
Large
Extra Large
Price
$23.20 – $38.95
Buy It Here:
Mensuas: Daniel Alexander DAI082 Wave Bikini
Erogenos: Daniel Alexander DAI082 Wave Bikini
Walmart: Daniel Alexander DAI082 Wave Bikini
Johnniescloset: Daniel Alexander DAI082 Wave Bikini
Skiviez: Daniel Alexander DAI082 Wave Bikini
DanielAlexander: Daniel Alexander DAI082 Wave Bikini
You May Also Like
Why Men's g-string underwear is underrated?
Why celebrating Thanksgiving with wine and men's thong a good idea?
6 underwear for men to feel good on Thanksgiving
6 men's erotic underwear to choose for special events