The highlights of the mens bikinis
The highlight of Kyle Bi-Bikini for men Green lingerie is, the way fabric panels have been used in the pouch area by designers. This sexy male lingerie looks great due to the string waistband. The sheer fabric used at the back embraces your butt crack.
About the brand
If you suddenly start feeling nostalgic after wearing Kyle's underwear, don't feel surprised. Their men's underwear styles are inspired by vintage design so that the person wearing can experience a dynamic look. Kyle brand was introduced in the year 2007.
Whether you pick men's thong underwear or bikini, you will feel great due to the latest technologies which have been used to design their underwear styles for men. Their men's underwear focus on highlighting the male anatomy.
Their men's underwear range consists of all styles, from men's jockstrap underwear to brief underwear for men you can pick according to your taste. A flexible waist belt with a brand logo implanted, pouch, and delicate fabric keeps the brand stand apart from its rivals. To read more about the brand, click the link mentioned below
About the men's underwear
This men's bikini underwear can be worn as beachwear. To embrace its design, creators have attached the pouch and back fabric with a string waistband.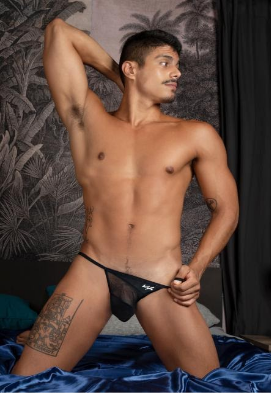 This men's bikini underwear must be worn during foreplay because of the panel of sheer fabric that has been used in the pouch area, offers a glimpse of your manhood which is enough to turn your partner on. When you are thinking of wearing Kyle Bi-Bikini underwear for men you cannot ignore the grooming part as it is capable of revealing our dirty secrets. And to groom your male genitals, there are several ways.
The fabric composition which makes this men's bikini underwear  "a must-have pair" is polyamide and spandex. Spandex used in it enhances its stretchability. On the other hand, Polyamide used in it gives a better feel, thanks to its softer and more flexible fibers. 
This skinny pair of men's lingerie is not made for machine wash and tumble dry.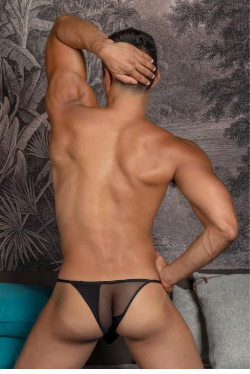 Features:
1.Skinny, gentle on skin, and lightweight
2.Include string waistband.
3. Available in different colors
4.Available in different sizes
5.Can be worn on the beach and for foreplay.
To know more, click on the link below:
https://www.mensuas.com/blogs/new-launches/cherish-your-features-with-kyle-bi-bikini-for-men
Fabrics Used
Polyamide – spandex
Colors available
Black
Green
Turquoise
Sizes
Small
Medium
Large
X-large
Price
$14.07–$15.08
Buy it here:
https://www.skiviez.com/products/kyle-kli029-bi-bikini?variant=31724559958039
https://www.ebay.com/itm/Mens-Kyle-KLI029-Bi-Bikini-Turquoise-Underwear-/274496951764
https://www.mensuas.com/collections/kyle-mens-new-arrivals/products/kyle-kli029-bi-bikini?variant=32541071343687
https://www.erogenos.com/collections/kyle/products/kyle-kli029-bi-bikini?variant=33009254236259