The word Modus Vivendi has an interesting meaning.
M- stands for Meter which in Greek means to live in balance. O- stands for Originality which means whether you pick something from the loungewear, swimwear, or underwear section, its unique designs will surprise you. D- stands for Diversity. As a brand, they support and urge men to express themselves through their designs. U- alphabet in Modus stands for Utopia. They firmly believe in good and hope to contribute positively to the world. S– stands for sensuality. Modus Vivendi presents such a pair of mens underwear which are attractive and sensual. V-stands for victory therefore they dream to be a part of every man's closet. I- stands for Idealism. Owners of Modus Vivendi have their ethics and compromising with them, is not their cup of tea. They love what they do. V – depicts vision therefore theydeliver a new experience in underwear fashion with the Male way of life. E– stands for elegance. N-stands for Neoterism which means creating designs that are edgy and one-of-its-kind. D-stands for Directness. As a brand, they try to deliver to their audience that they believe in maintaining transparency in everything they do. I – stands for Ithaca. For every collection, they take inspiration from their Greek roots. Also, they never forget the wise words from Kavafis poem Ithaca.
Apart from interesting meaning, they have an interesting story to tell. Modus Vivendi's story is the culmination of a Dream, a dream to cross all the limited choices. This Thessaloniki based brand was launched in December 1989 by the Greek Designer Christos Bimpitsos. Christos Bimpitsos wanted to offer mens underwear, swimwear, and sports in a tailored manner. Regardless of the style or collection you consider, pairs are designed and manufactured in Greece. All the styles are made from fine quality fabrics and are packed beautifully.
The Modus Vivendi works intimately with exceptionally great designers to guarantee that every customer gets the best male lingerie.
Although the entire range of Modus Vivendi mens underwear range is incredible one of our favorites is the mens jockstrap underwear range and we highly recommend going with these pairs.
SUEDE JOCKSTRAP
One of our favorite pairs of mens jockstrap by MV belongs to its Suede collection. This pair of mens underwear is perfect for winters and let you put your best foot forward. This skinny pair of male jocks offer great support and comfort.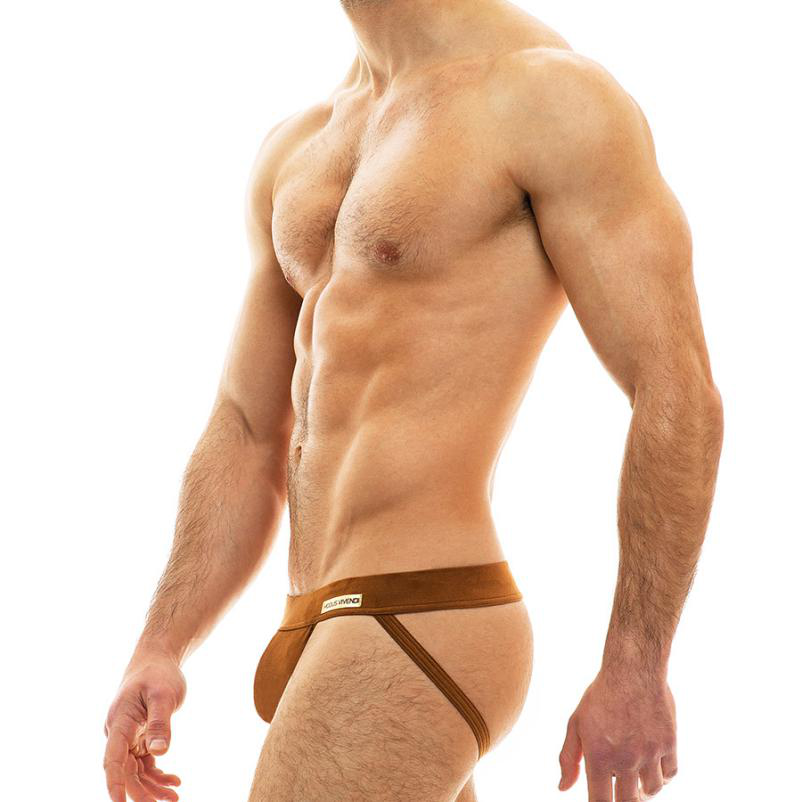 This pair of mens jockstrap underwear features a logo on the waistband hence men who feel irritated by labels should grab them before it's too late. This polyester-elastane based male lingerie is available in light blue, camel, brown and black hues. Modus Vivendi Suede Jockstrap underwear suits every occasion and is appropriate for those who wish to highlight their natural beauty.
Fabric Composition
Polyester- 90%
Elastane- 10%
Priced
€30.00
JEANS JOCKSTRAP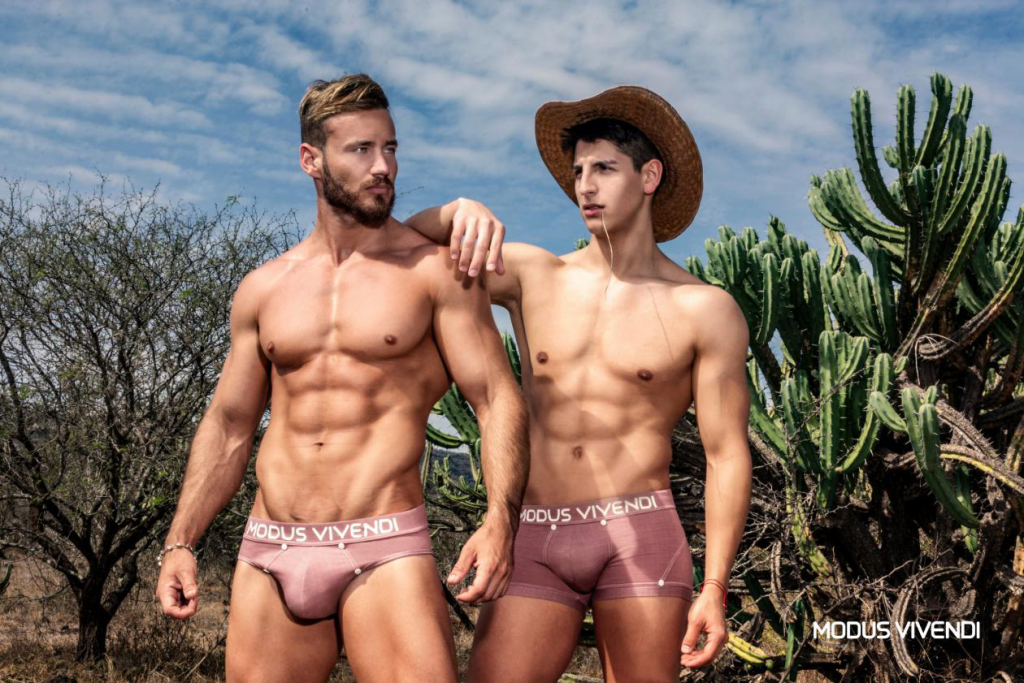 Denim has always been considered the fabric best for trousers and jackets, but with jeans jockstrap, the collection Modus vivendi has changed the entire perspective regarding denim. Being a denim mens underwear, it's lightweight hence wear them anywhere you want. This pair of mens underwear is available in colors like sand and dusty pink. Speaking about the silhouette, it features a denim brief cut front with two decorative branded press studs that makes it unique and a classic jockstrap back.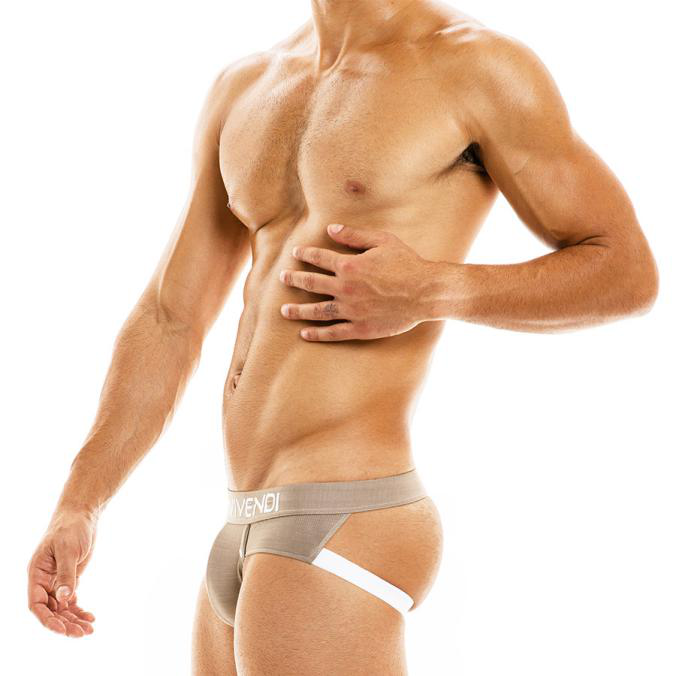 For more comfort and confidence, choose them over your cotton-based mens briefs and boxer briefs.
Fabric composition
Viscose 75%
Polyester 20%
Elastane 5%
Priced
€36.50
TRAPPED CAMO JOCKSTRAP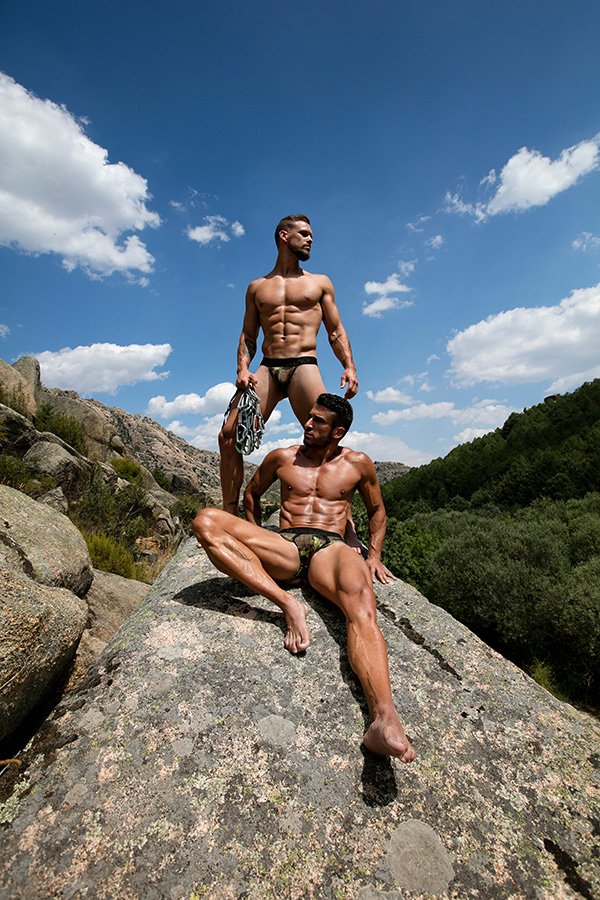 This pair of mens jockstrap is so good to be true and trust us, your manhood would love to be trapped within them. This sexy men's underwear has been painted in various colors such as khaki and blue. Also, this mens jockstrap underwear features a camo print main body and a monochrome matte waistband (black or steel blue).
Trapped Camo jockstrap for men is extremely comfortable, offers minimal coverage with the Modus Vivendi logo printed in brilliant lurex on the waistband. Speaking about the quality, this pair of male lingerie is designed from superior quality, printed elasticated fabric with lurex details on the waistband and the sides of the pouch.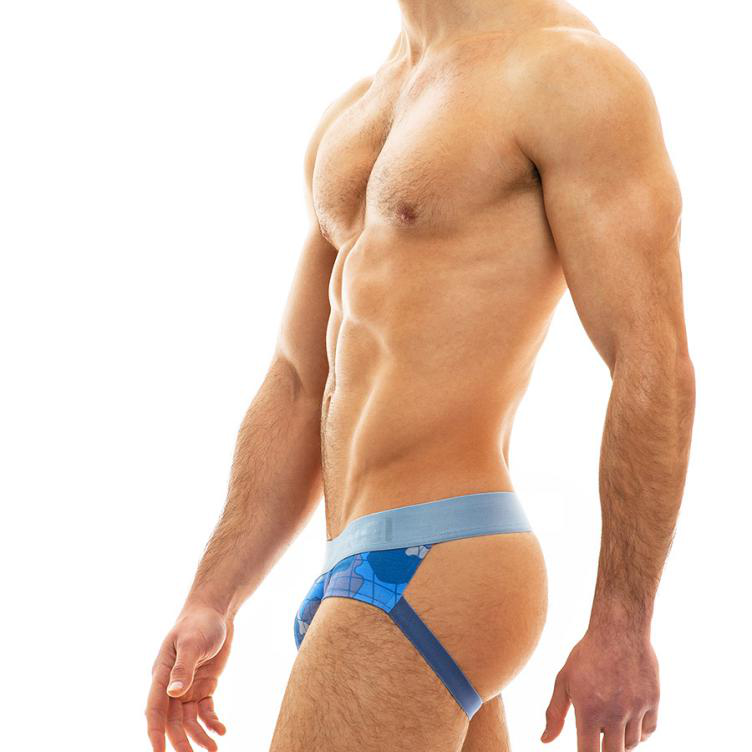 Whether you are someone who craves to conquer new picks or looking for a pair of lingerie that accentuates your features without letting you compromise on comfort level, can give this a chance.
Fabric composition
Polyester 95%
Elastane 5%
Priced
€28.80
TIFFANY'S VELVET JOCKSTRAP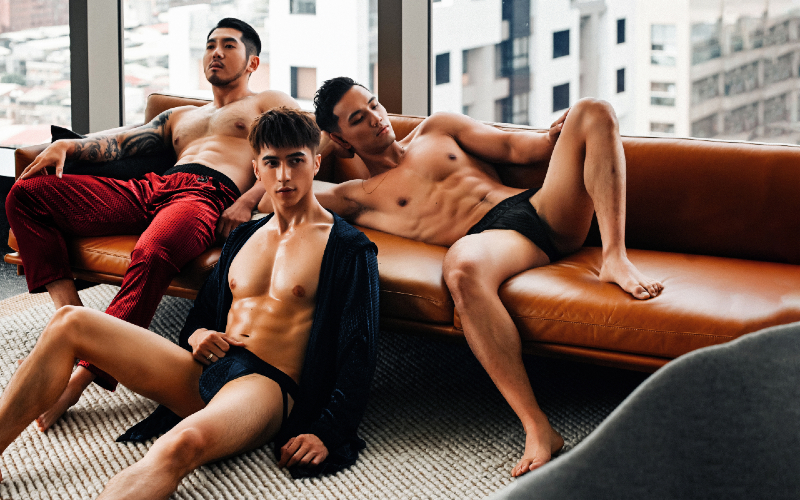 Velvet is one of the richest and royal fabrics and this time Modus Vivendi has incorporated this wonderful fabric in their jockstrap underwear range. This male lingerie is available in colors like wine red and electric blue, featuring an elegant jock.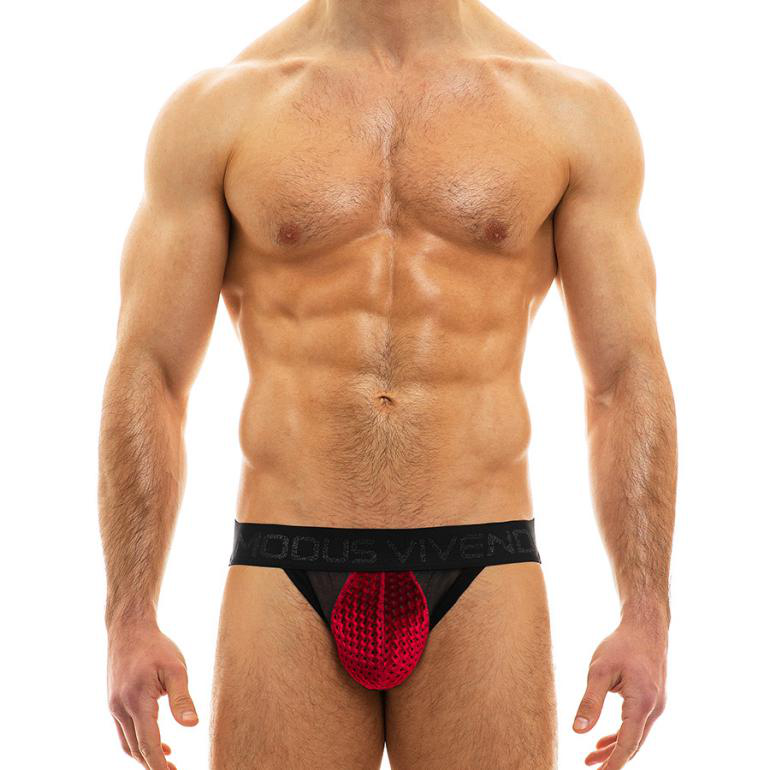 Tiffany's Velvet mens jockstrap underwear has been designed out of semi-transparent sheered based velvet fabric with a tartan design. Men who wish to make this pair of lingerie a part of their everyday routine can certainly do that because it is soft, naturally cozy, and offers a luxurious feeling. The Modus Vivendi logo is placed on the waistband.
Fabric composition
Polyester 92%
Elastane 8%
Priced
€27.50
GLAM SPARKLE JOCKSTRAP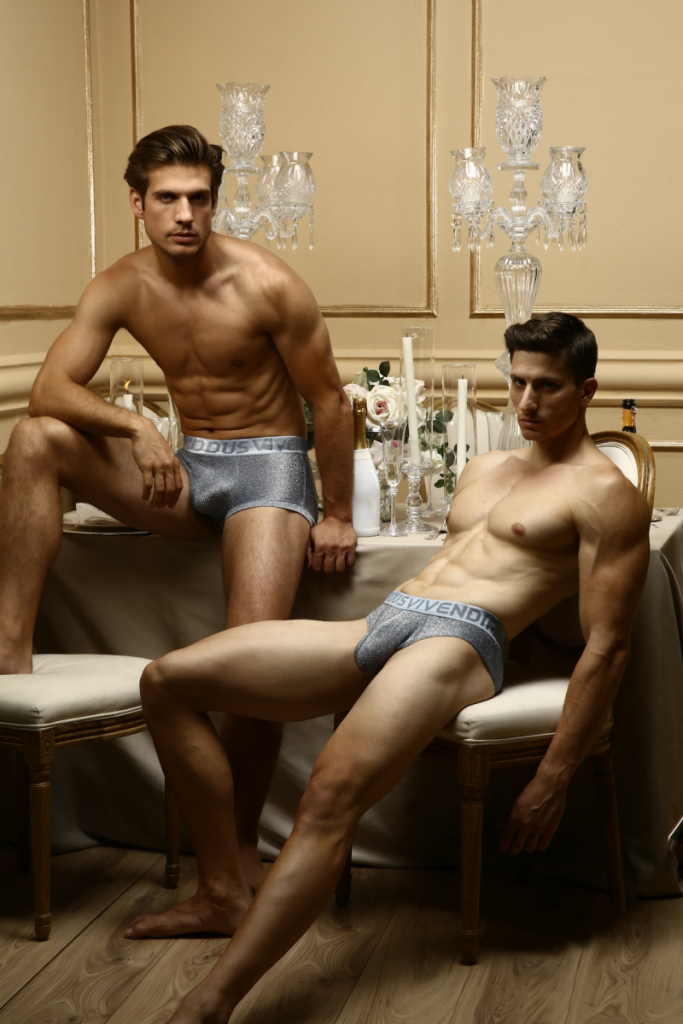 Don't know about you, but we love this pair of mens jockstrap. It's seductive, classy, and looks amazing when paired with your confidence. This pair of jockstrap is great for your foreplay and sexual intercourse and should be limited to those occasions as wearing them regularly can ruin its charm. Speaking about the fabrics, this pair of lingerie has been designed in lurex and spandex yarns.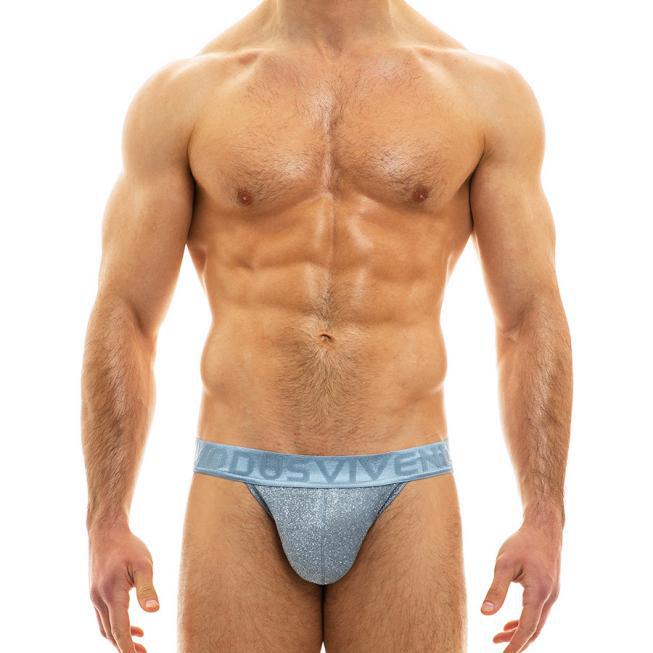 The Modus Vivendi Glam Sparkle Jockstrap for men is available in colors like gold, steel blue, and black featuring a smooth and shiny jock.
Fabric composition
Polyester 85%
Lurex 15%
Priced
€27.30
MODUS VIVENDI never fails to impress us when it comes to adding comfort and support to our closets.