Agacio jockstraps is one of the most comfortable men's underwear brands that has been in the industry for quite some time now. If you are an avid sports player, genuine men's jockstrap underwear will define and protect your manhood from being hurt. If you've played sports growing up you've probably owned one. Most sports players have been deemed "jocks" because of the jockstrap underwear for men.
It has an elastic waistband that is attached to a (protective) cup what is called the pouch that might be made of protective fabric that surrounds the male genital area. There are male jockstraps designed for specific sports such as baseball, or football, etc. The fact is that the jockstraps for men are far from being outdated when it comes to protective underwear for athletes. You might say that boxer briefs for men do the same job when it comes to playing sports but jockstraps have evolved.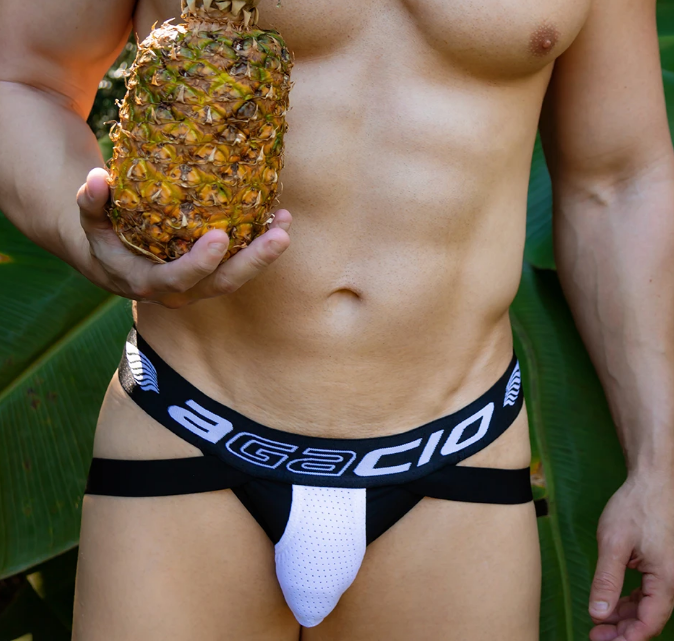 About the Brand
Agacio jockstraps fall in the category of athletic men's jockstrap underwear, for they are functional and supportive. The earlier products featured the sack-lifting technique which was a specifically engineered technique to lift the manhood with a pouch designed for it. With time, the brand stopped including the name "sack-lifting technique" in the Agacio jockstraps but the pouch still is all about adding that visibility to your manhood. The pairs can also be worn for fashion purposes because they are absolutely stylish. The line of men's pouch underwear by the Agacio looks manly, sexy, and pleasing. Agacio jockstraps offer high-quality protection, support, and enhancement to the athletes. The collection of men's jockstrap underwear by Agacio also provides a better fit compared to the more modern compression shorts. They allow you to move around without having to worry about injuring yourself.
Modern men know how important it is to protect their privates while involved in strenuous activities. If any damage happens down there, it could prove to be fatal for guys. A lot of serious medical conditions could result if you get injured in the genital area so this is something that you should not risk. This is why it is very important for men to wear jockstraps for men. For an add-on advantage, Agacio provides a manly, yet a functional assortment of jockstrap.
About the Size and Fit of Agacio jockstraps
When choosing the right Agacio jockstraps, it is important to choose the one that fits you properly. The wrong size of the men's underwear style might lead to rashes and other skin problems including jock itch, chafing, and others. They must not be too tight or too loose. It also causes chafing and breathlessness for your manhood. They also give you the feeling of discomfort while playing and the whole experience can be very painful and uncomfortable for you. If the underwear for men is too loose, they can easily fall off due to the physical activities that include running, gym, or any other sports. The correct size of men's jockstraps by Agacio is a very important aspect of purchasing one.
The fabrics that are used for manufacturing Agacio jockstraps for men are specially chosen to keep it comfortable down there with the necessary requirement of support and thrust. The range of colors available with the brand is masculine black, white, grey, red, and royal blue.
Agacio features an array of products matching every kind of personality and mood of men. Men's jockstrap underwear are a highly recommended style among the other styles of underwear with the brand. Agacio has a sporty range of jockstraps at affordable prices. Start shopping for better protection and comfort.
You may also like:
Model Adam Hosman in Pump Jockstrap for Men
How Men's Jockstrap Underwear Can Make You Feel Good?
Seven Reasons Why Gay Men Like Jockstrap Underwear for Men
Switch to these pairs of mens jockstrap underwear from Modus Vivendi, if looking for comfort