Image source: Dhgate
Introduction
Pump yet again embraces diversity and invites you to come closer with the fashionable, fetish, and luxury versions of yourself. A colorful array of mens underwear designs manufactured to indulge your senses with universally flattering shades that never get old.
Born for the connoisseur, styles for the curious, ready for everywhere you go the men's brief underwear from the best men's underwear brand Pump allows the expressions of your true colors and tastes. Natural fabrics are mixed with refined elements, such as exotic details, supportive pouch, smooth fabrics, smooth knits, and modern development. This men's brief underwear is a lot more seductive than other pairs.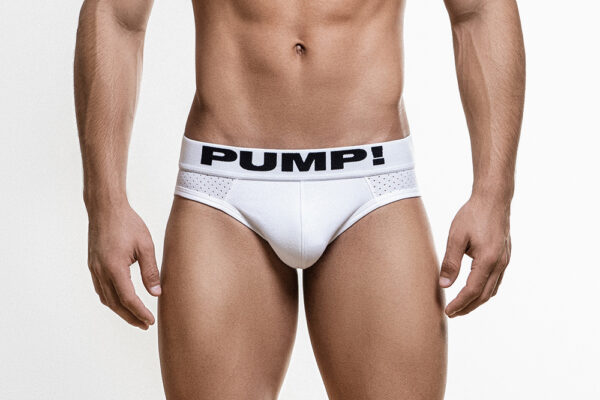 Image source: Wearpump
Main features of Pump Classic Brief
This classic brief underwear for men uses mesh fabric with a cotton pocket for ultimate comfort countered with the smooth athletic stitching. The elastic waist is soft yet sturdy with ultimate stretchability and hold. The leg elastics in this men's underwear are actual elastics designed to stretch yet hold firm no matter how long they are worn. There is the use of mesh fabric that allows the airflow with the help of small holes. You can rely on this pair of brief for men once you want to special some special occasion. This pair is supportive, exotic, enhances your bulge, upgrades your personality, gives you confidence, and offers all that you expect from your men's underwear. If you want to know more about this collection of Pump underwear then look at this Instagram posts:
Model
Adam Jakubowski
https://www.instagram.com/ladyjakubowsky/
Some additional information regarding this brief underwear for men:
Gives boost and extra support without being restrictive
Different designs to fit your fashion
40 mm white and black elastic waistband
White full mesh body
Cotton double-lined white cup
Tone on tone white stitching
Soft leg elastic.
About the brand
Pump is more than your typical men's underwear brand. It's serious, inventive, and creative. With a strong use of hues, developments, and even shapes, Pump offers something not normally found in men's underwear. Pump came in like a legend, getting a handle on both masculine style and contemporary to intend to make something new and phenomenal. Pump underwear uses intriguing and consistent features in the pocket for an ensured fit with an overhauling, trademark lift. Pump men's lingerie also gets a handle on solid hues and styles, using fabulous prints that will grab the attention in a flash. No matter what variant you choose you'll always end up buying the best pair for yourself.
Size
Small
Medium
Large
X-large
Color
Black
White
What do we like?
What we like about this men's brief underwear from Pump is the sexiness, the pouch enhancing underwear front, the comfort, and many more advantages that it offers. The skimpy appeal without lacking the support; and the slim design is what makes this male brief a must-have.
What can be the problem?
The only problem that we could think of is that of the incorrect size which depends on your choice.
Price
$29.00
Buy it here:
https://www.wearpump.com/product/white-classic-brief/
http://www.internationaljock.com/pump-touchdown-classic-brief-white,17666.html
https://www.gentlewear.de/en/pump-brief-touchdown-classic-brief-12007-white.html
https://www.freshpair.com/products/classic-white-briefs
You May also like:
Hot Model Alistair Morrell Slaying in Teamm8 Gladiator brief
Do you know what wearing Men's thongs feel like?
What men's underwear style you should wear at home?
What's Hot? Secret Male Lunaria G-String Underwear