Image source: Instagram
Introduction
With a design meant to make you feel top of the world, ADDICTED presents this designer bikini for men. This piece is something that every man would cherish, something that would make you fall in love again. So, hold tight until you reach your destination.
About the product
Built with a design that is destined to make you look sexier and hotter, we are here to offer this designer bikini for men. At the front of this sexy piece, you are offered a pouch for your special tool. This pouch is meant to give your genitals a firm hold and a place to rest. The room available for your front tool is more than enough even when the blood flow is down there. Moving to the back of this sexy men's bikini, you are offered maximum coverage for your buttocks. Apart from giving the apt coverage, this fabric gives your buttocks the support that prevents them from swinging and promote a sexy look on your personality. Since it is a bikini, the idea of a bikini is to reveal more than it covers. To make this happen, this sexy men's bikini offers a design that acts likewise. Even the front of this bikini offers nothing but a pouch that is truly dedicated to your genitals. Other than the pouch, you are offered complete disclosure. So, if you are someone with muscular thighs and wish to flaunt them in the right way then this designer men's bikini may come as a helping hand for you. Attached to all of this, you are offered an elastic waistband that holds and keeps everything where they are supposed to be. As mentioned, this product comes in a pack of 3, accordingly, you are offered three different color combinations with the same print. The dominating colors in these variants are grey, Blue, and Military.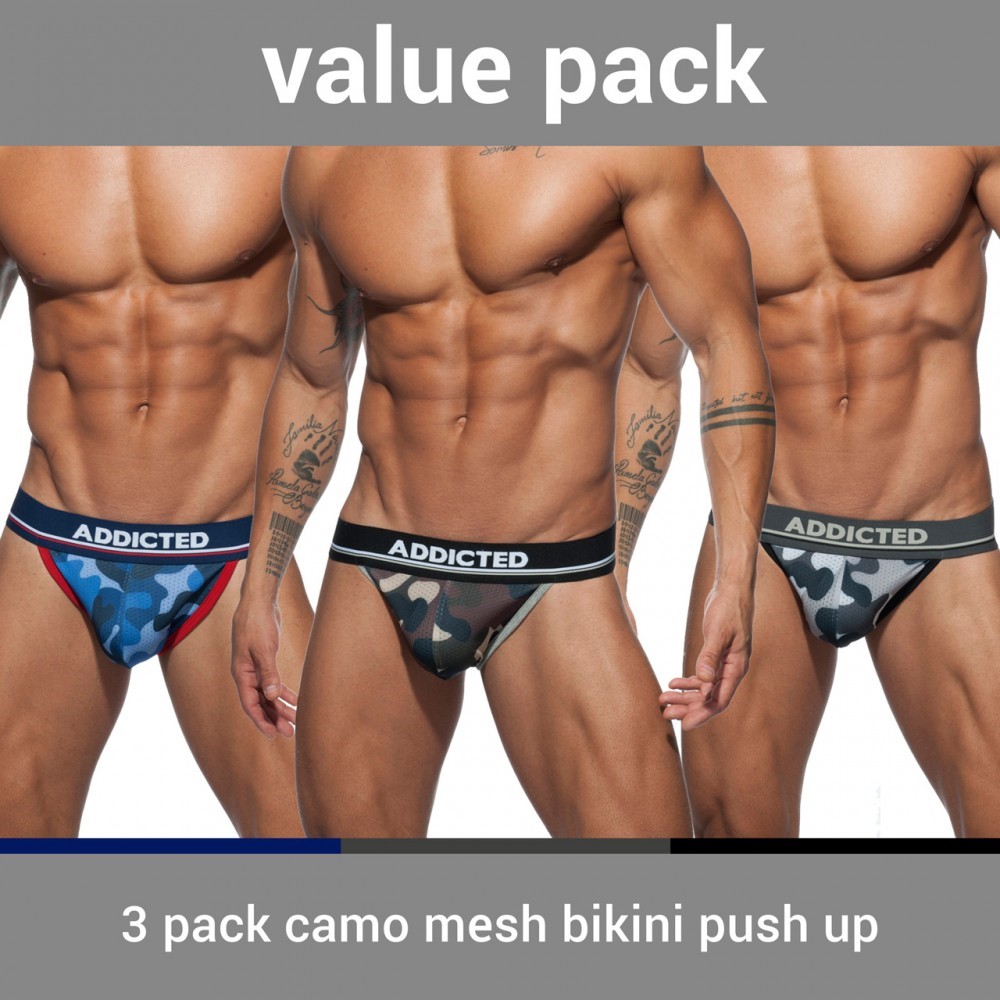 If not enough then look by yourself. This is what it would like exactly on you.
About the brand
The word Addicted may seem a bit uneasy but the experience is astonishing. I am not going to bore you guys with the customary lines that would depict the very fundamentals of the brand which later led to being such a big hit, instead, I would excite you by with something that we offer and others don't. But before that let me tell you that ADDICTED is one of the very few men's underwear brands that offer men's lingerie and promote them in such a proactive way which makes the fashion sense of the future. Established in the year 2009, ADDICTED may be new to the industry but these following years have been an inspiration that led us to be in the game and moreover top the game once in a while.
Made their debut in this men's underwear industry with men's Swimwear designs, ADDICTED developed a fan base that may thrill our competitors. And now, we have underwear designs from every last category. From men's boxers to men's bikini and jockstraps to brief, we have it all.
Product fitting
As mentioned above, the front offers a pouch for the front tool. But what is not mentioned above is the mesh used for these fabrics. ADDICTED used a net-like mesh that offers an airy environment by giving a less restricted pass of airflow down there, making your experience less sweaty and healthy. The pouch fits in the right position and gives your genitals a sense of support. The back fabric manages to cover aptly as mentioned but with the contour formation all over, this piece offers a firm hold, giving a near to perfect fitting. To sum up, the fit is sufficing itself as it is neither too loose nor to tight.
To virtually experience this product, just have a look at this video.
Best occasion
To my recollection, bikinis are a way to express love to your special one. So, the best occasion for this macho men's bikini would be the time between you and your partner. This piece brings out the best in you and helps you in gaining confidence.
Fabric used
Built with a specially orchestrated composition of 80% polyester, 10% cotton, and 10% spandex, this designer men's bikini has a lot to offer. This perfect mixture avails you with traits like elasticity, ventilation, minimum pressure, and many more.
Sizes
Size is and should always be the primary concern because we all are well aware of the fact that each and everybody on this planet has a different scaling and one should always choose the size which fits perfectly and as it is meant to be. To be more accurate, you can have a look at the size chart we offer.
Extra Small 26-27"
Small 28-29"
Medium 30-31"
Large 32-33
Extra Large 34-35"
XXL 36-37
3XL 38-39
4XL 40-41
5XL 42-43.
Colors
As mentioned, this product comes in a pack of 3, accordingly, you are offered three different color combinations with the same print. The dominating colors in these variants are grey, Blue, and Military.
Buy it here
https://addicted.es/en/underwear/1611-ad699p-3-pack-camo-mesh-bikini-push-up.html
https://www.escollectionshop.gr/underwear/addicted/brief/ad699p-3-pack-camo-mesh-bikini-push-up
https://addictedaustralia.com/home/1019-ad699p-3-pack-camo-mesh-bikini-push-up.html