Image source: Underwearformen
Features that make the men's brief underwear a must-have
The POW line by Supawear underwear has always been the one that gives a kick start to your Monday mornings and keeps you on your feet throughout the day. The peppy designs and the poppy colors in the line keeps you feeling high even on the most gloomy days. The Supawear POW briefs for men were introduced earlier this year and have been one of the favorites for many. The men's brief underwear is all about being peppy, sexy, supportive, and sensational. With a bold elastic waistband, you'd find the brand name in repeat mode of the men's briefs. Take a look at the detailed descriptions of the briefs for men by Supawear underwear below.
Sexy and peppy design throughout the fabric featuring options like ice-creams, candies, or diamonds and stars.
Single layered pouch to give your boy an enhanced but natty lift
Lightweight and cooling to keep you comfy all day and night
CURV Tech which keeps your boys away from your skin, reducing chafing and sweating
Super sexy fit to accentuate your pelvic (V) line and ass
Fabric composition: 90% Polyester, 10% Spandex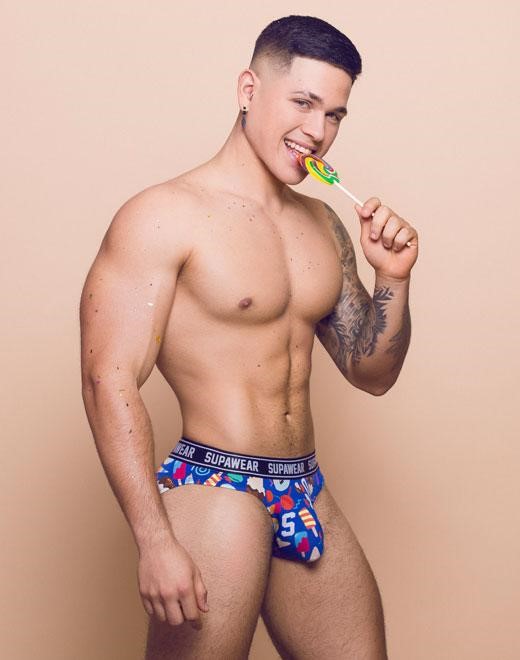 Picture credit: Supawear
Why have these men's brief underwear?
Just before you go and find out the reasons why you should have this pair of men's sexy underwear by Supawear underwear, take a look at this Instagram post where the model is showcasing the sexiness and the peppiness of these men's briefs with the intense looks. Check it out here –
Model Instagram
OSCAR CUENCA
https://www.instagram.com/oscar_cuenca_/
You should have these men's brief underwear for the following reasons:
The peppy and uplifting print that leaves a long-lasting impression.
The combination of both fun and functional attributes of the hot underwear.
Fabric composition: 90% Polyester 10% elastane
The modern print with the conventional function of wrapping around your assets traditionally as well as holding your manhood with all the support.
The CURV pouch by Supawear
Why you shouldn't have this men's underwear?
We couldn't find a reason why shouldn't try these sexy men's briefs on.
About the brand
Established in the year 2012, Supawear was started by the founder and designer of 2eros underwear Jason Hoeung. Providing the identical features of its brother brand, 2eros, Supawear underwear is one of the most fashionable, chic, and peppy names in the men's underwear industry. Click here to know more about the hot underwear brand here.
Product fitting
These men's briefs by the label fit second skin and feel like you're not wearing anything below the belt.
Best occasions
Any place, anywhere, and anytime that you think you need that extra dose of peppiness, these men's briefs are ideal for your personality.
Why would we recommend it?
Well, before we tell you why we recommend it, here's a video that shows you the brief underwear for men in live-action. Check it out here –
Now, the aspects for which we recommend it:
The CURV technology
The peppy and fun print; and
The skin-like fit
Fabric composition
Fabric composition: 90% Polyester 10% elastane
Available colors
Desert
Ink
Available sizes
Extra small
Small
Medium
Large
X-large
Price
$19.90-$30
€27,95-€29,45
Buy it here:
http://www.alphamaleundies.com/supawear-pow-brief-underwear-dessert/
https://underwearformen.be/en/product/supawear-pow-brief-dessert/
https://www.cool4guys.com/shop/en/briefs/19195-Supawear_POW_Brief_Underwear_Dessert_Supawear_Cool4Guys_com_T7572-0759740895284.html
https://www.dealbyethan.com/Supawear-Pow-Brief-Underwear-Ink-U27POIN
Read more here:
5 Most Fashionable Men's Swimwear to Own
10 Matchless Thongs for Men
Common Myths about men's sexy underwear that you need to know
Butt enhancing underwear for men, lucky if you have one!