Image source: Covermale
Are you ready for Cover Male Hurricane Thong underwear for men?
Cover Male is back with another power pack underwear, Hurricane Thong for men. This thong for men is simple yet elegant male lingerie that you have ever seen. Besides that, there are several other features in this sexy male underwear, but before going into that depth we would like to introduce you to the brand Cover Male.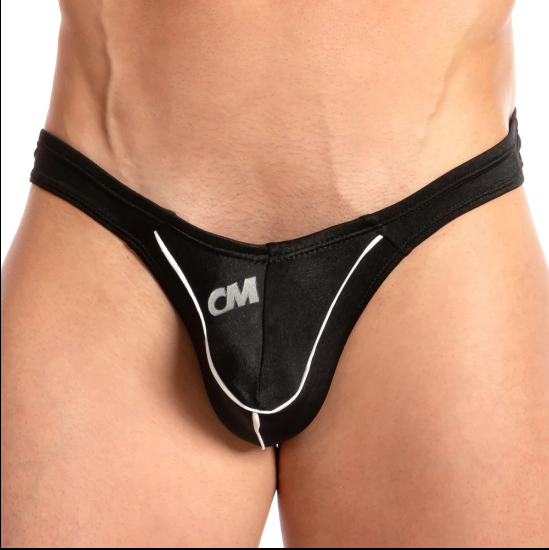 Image source: https://www.covermale.com/products/cover-male-cmk044-hurricane-thong
About the brand:
Cover Male is one of the promising underwear brands. Whether it's your skinny lingerie like G-string underwear or whether it's your regular male underwear like briefs, comfort is something that lives in it. As a brand, they do not believe in compromising with the most essential features for looking handsome. Cover Male lingerie is crafted in premium fabrics, that's why when you place your resources in it, you don't have to face skin problems.
About the product:
Now, coming back to this sensual male underwear. Cover Male Hurricane thong for men comes in the minimalist cut which allows you to flaunt your toned thighs and acts as an invisible under clothing. It reveals the buttocks which give it a great seduction power and emphasize your forms. Because it is skinny, the person wearing them receives excellent leg movement.
Fabrics
The amount of fabrics used in this male thong covers the important areas as a result one feels as if he is wearing nothing down there. These male thongs are perfect for your fitted jeans because then a person doesn't have to worry about unwanted underwear lines that are enough to make you feel embarrassed.
Colors
Speaking about the prints, this sexy male underwear doesn't include quirky prints, neither crafted in bright colors. It's classy and subtle and to embrace it a little more creators have added contrast colored piping on the pouch section.
For avoiding irritating labels, they have printed the logo on your contour pouch.
Next is fabrics. Fabrics that are used for creating Hurricane thong are polyamide and spandex so if you are planning to wear these for your gym classes because of this deadly fabric composition and contour pouch, truly you can. Polyamide and spandex together make your male lingerie flexible as well as stretchable, whereas the contour pouch used in it protects your manhood from external injury.
Men who are not comfortable wearing men's bikini, G-string underwear as beachwear, can wear this male lingerie because it is sexy, comfortable, and boosts your confidence. Wearing Hurricane thong in the correct size and in favorite color is another way of boosting self- confidence.
Size
This thong for men is available in colors such as Black, Navy, and Royal Blue. These are designed in different sizes such as Small, Medium, Large, and Xlarge.
So long story short, this lingerie is a complete package. Whether you pair them with workout clothes or with formal trousers, safety and comfort are guaranteed. This male thong features a slim fit in the front, so men with a well-structured physique should try them. They look amazing on men with the sculpted upper torso. Men new to this underwear should try them more often for better comfort.
Buy it here:
https://www.covermale.com/products/cover-male-cmk044-hurricane-thong
https://www.amazon.com/Cover-Male-Hurricane-Enhancing-Underwear/dp/B08G59CWCM
https://www.be-brief.com/products/cover-male-cmk044-hurricane-thong
https://www.skiviez.com/products/cover-male-cmk044-hurricane-thong