Really Men's Bikini Underwer Are So Important at Christmas Parties?
When there is a function or festival to celebrate, we just dress perfectly to have a sexy outfit. But what about the inner materials? We just avoid them every time. Don't you want to feel good from the inside as well or just say, "PERFECT FOR INSIDE"?
Men's underwear is also an important wearable for your body to stay fresh and sexy all day. You can't fit into or survive the day until you're comfortable on the inside.
This Christmas, therefore, guys should give themselves the gift of a bikini; and to underscore just how ideal this tiny pair of underwear is for men, we present to you seven occasions on which men's bikinis proved their worth.
1. Men's Bikini Briefs Enhance Your Appearance
Those men who have been sporting this look for some time now must have observed that it improves the contours of their butts and, by extension, their self-esteem. This cut provides adequate but not excessive back covering, so your butt will be on full display.
Men's bikini briefs innovate in the design of the underwear by providing more flexibility and a sufficient gap between the inner thighs.
You can look through the various-sized pouches on the market and select the ones that are appropriate for your body type.
2. Caring is Simple For Men's Bikini
It doesn't take long to wash a pair of men's bikini briefs because of their compact design and minimal fabric. Getting clean won't be a problem by any stretch of the imagination. Men's bikini brief is perfect for the holiday time period. As the holiday season is made to spend with your friends or partner.
It is the perfect men's underwear style while going on a trip to get spend quality time with your loved ones.
3. Enhancing Manhood Appearance
This stylish underwear for men is great for your sexual allure. Putting on a men's bikini eliminates the need for any other cosmetic preparation, as you will immediately look more put together.
Besides, you are allowed to show off your cuts, skin, and other sexy features that are all put on display in the front. Just check out the men's bikini underwear in different fabrics like mesh, sheer, and lace.
4. Show off Your Big Booty in a Cheeky Men's Bikini
Men's cheeky bikinis are among the sexiest options for bathing suit wear because of their design and cuts. The high cuts of the cheeky bikini for men give the impression of the firm, round butt-cheeks that are just begging to be touched.
It is commonly used to provide comfort, support, and flexibility around the lower body. The support helps to uplift the buttocks and highlight them under the pants. Also, you can swim and surf while wearing men's bikini underwear.
As a result of these factors, athletes and other masculine celebrities prefer men's bikini styles because of their minimal design and other impressive features such as ample support and breathability.
5. Provides Fresh Feel To Beginners
There are several types of men's underwear that novices and beginners tend to avoid because of the attention they draw. A sense of shame and shyness has settled upon them. The topic of bikinis, however, tends to boost the confidence of newcomers.
Men's bikini underwear is more erotic than men's g-strings and more stylish than men's brief underwear. However, it conceals your package and provides little fabric to show off your cheeks behind. As a result, it is more suitable for beginners.
6. Demonstrate Cost-Effectiveness
Every brand has a different offer running. However, our Mensuas have amazing offers on their new collection and deals for Christmas celebrations.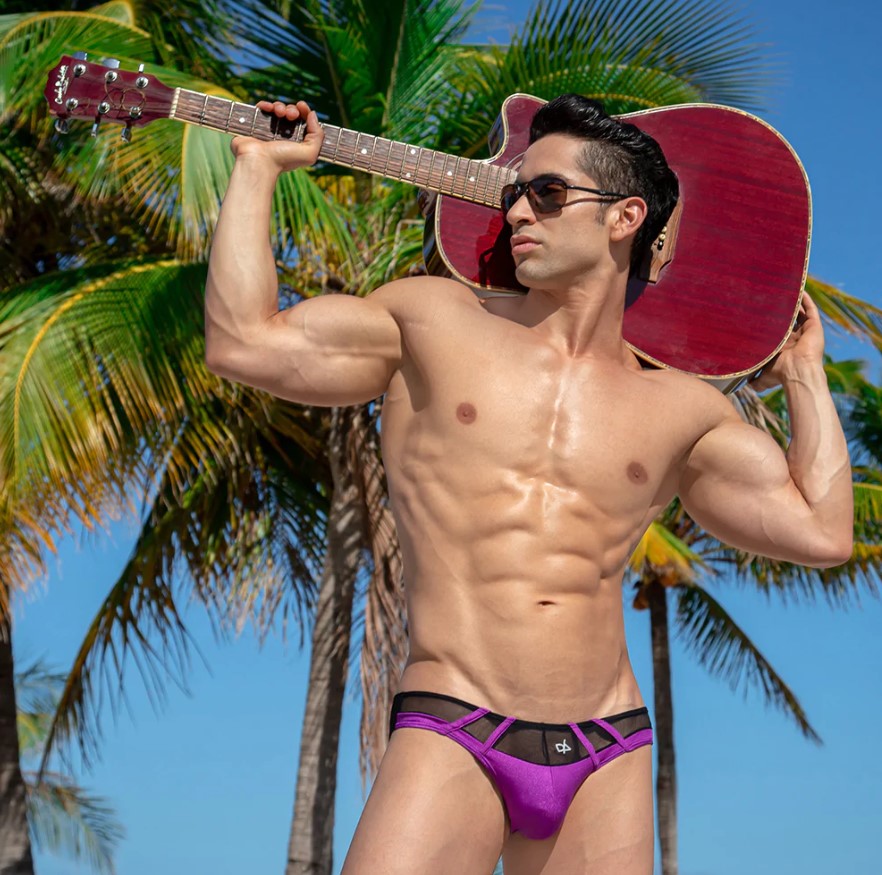 Moreover, we are offering discounts for the new year as well. As a result, you can get these sexy male underwear styles at very low prices.
Shoppers can also save $5 on orders of $50 with the promo code "MENS5" and $10 on orders of $100 with the code "MENS10" (Use Code: MENS10). This holiday offer will last through December 26.
People who are making their first purchases can save money with the code WELCOME20 on the Skiviez store.
7. Improve Your Photogenic Potential
Men's bikini underwear reveals your sexiness, confidence, and body postures. After highlighting your best features, it makes you feel special.
Don't you agree?
When your thigh cuts and other muscles, along with your 6-pack body, are flaunted outside, then you will feel like a male model.
Well, it looks like we'll be doing a little "men's bikini underwear" shopping. To what extent do you agree?
You May Also Like:
Reasons To Purchase Men's Enhancing Underwear For Thanksgiving and BFCM Week
Which Men's Underwear You Must Try This Thanksgiving and BFCM Week From Skiviez?
Why Wear Men's Bikini Underwear This Thanksgiving and BFCM Week?
Do You Want to Be Famous with the Skiviez Fan Contest?
New Launches: Intymen Proud Jock