Why Only Mensuas Men's Underwear Are Perfect For Christmas Eve?
As the winter season arrives, the preparations for Christmas and the New Year begin with great zeal and enthusiasm. However, the week is very special to everyone, and getting excited about this season is justified. People are making excellent arrangements for this week, such as renovating their homes and bringing new home decor items, inviting friends and family, and purchasing gifts for loved ones.
Have you ever thought to gift something different and unique that may surprise them? What about giving mens underwear to your buddies?
Shocked?
That's totally fine to do something unique and surprising. it is okay to take care of your friends and gift mens underwear to them.
Here are some suggestions for places to look for different mens underwear styles to gift. Our Menswear Models shot a photo shoot with the new men's sexy underwear collection for you to choose from.
Let's proceed with the blog without delay.
Male Bikini Briefs – Men's Underwear
Men's bikini brief is a combination of briefs and bikinis. It is designed with perfect skin fit by providing a sufficient gap between the inner thighs for the package to breathe. This men's underwear style gives perfect bulge along with the beautiful pouch and up-lifts the cheeks to highlight even under the pants.
Just like Santa's sack, this chic bag will keep all of your belongings safely tucked away and in style.
Putting these on will make your significant other excited to find out what you've gotten for Christmas. Select a color that you like, or better yet, let them choose.
Men's Mesh Briefs
The mesh briefs are so perfect for the body and for the season as well. However, the meshy part of the men's underwear helps to keep the buddies cool and dry.
Moreover, it made a beautiful design and shape to flaunt your thigh cuts and muscles.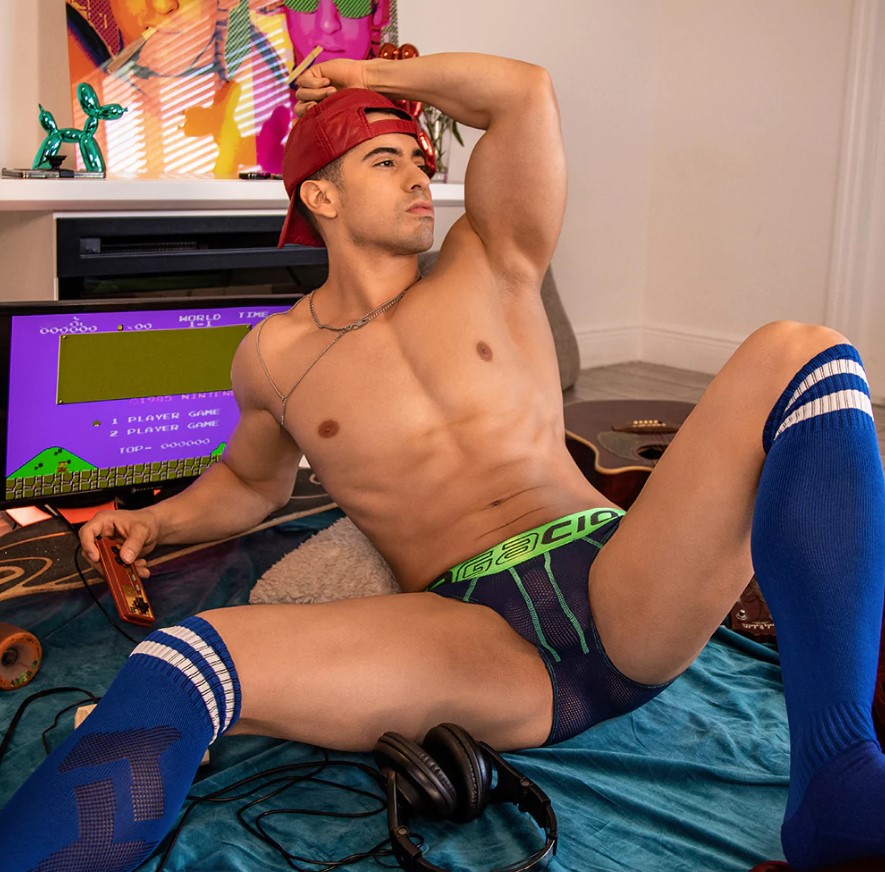 This seductive underwear, with Chinese designs in stitching, will make you feel like a ninja of love this winter. This is a situation where being spotted is highly desirable. There is also a racy brief option for these.
Male Boxer Shorts – Men's Underwear
Men's boxers are very comfy and support your genetical. It prevents the buddy from being dangling and getting superior support. Parallelly, it provides a sexy shape to the buttocks that are highlighted.
Apart from it, they are so flexible that you can even use them in the gym workout, running, or in other sports activities.
Don't take my word for it; test them out for yourself. The soft boxer is also perfect for lounging around the house.
Male Bikinis
Men's bikinis are awesome to wear when it is a special moment then you cannot miss bikini underwear. It adds spice to the moment and will not stop your partner to unwrap it.
As it has high cuts and allows you to flaunt your pouch on the front and the cheeks behind with the correct shape.
Moreover, the fabric used in this male underwear style is luxurious with a minimum quantity. It helps to highlight manhood with sexy curves. You can add it to the shopping list or can check out its new collection in our Mensuas Store.
Men's G-Strings Underwear
Men's g-string underwear is made of very soft fabric and few are shiny as well. It comes in men's erotic underwear where you can show your body and just cover your package. The string is between the two cheeks and helps to create a sexy pouch on the front. You can wear this male underwear on the vacation or when you are going to make love with your partner.
Putting these on Christmas morning will make you feel like a million bucks because of the luxurious satin's smooth, silky fabric touch.
They'll be trying to yank you under the mistletoe all day long once they see the special pouch you got to show off your twig and berries. These are but a few of my favorite seasonal options for good cheer. What are your plans or what you are going to ask Santa this year?
I'm eager to listen in. Will it be a pair of different mens underwear styles; men's bikinis, men's jockstraps, men's thongs, men's briefs, men's boxers, and men's g-strings?
How about you—have you been good or bad this year? Whatever the case may be, we can be assured that the male underwear selection from Mensuas Body Aware is second to none.
Friends, till next time, compile and disseminate your wish lists.
You May Also Like:
Reasons To Purchase Men's Enhancing Underwear For Thanksgiving and BFCM Week
Which Men's Underwear You Must Try This Thanksgiving and BFCM Week From Skiviez?
Why Wear Men's Bikini Underwear This Thanksgiving and BFCM Week?
Do You Want to Be Famous with the Skiviez Fan Contest?
New Launches: Intymen Proud Jock