Introduction
Introducing Reconsidered Steel Micro 3-Pack Hip Brief by, a must-have style for men who takes comfort very seriously. This classic pair of men's brief underwear has been sculpted with a body-defining fit. Further, the feature that makes it super comfortable and easy to handle pair is the sustainable fabric that has been used in creating this pair of underwear.
The metallic logo waistband and a supportive contoured pouch make this pair unique. Moreover, this pair of Calvin Klein's hip brief is available in 3-pack. Furthermore, wearers get to experience flexible fit for sophisticated comfort.
You can shop this style from Calvin Klein's official website.
Main features
Reconsidered Steel Micro 3-Pack Hip Brief by Calvin Klein includes a metallic logo waistband that is eye-catching and the supportive contoured pouch keeps your manhood safe and sound. The flexible fit offers sophisticated comfort to the wearer.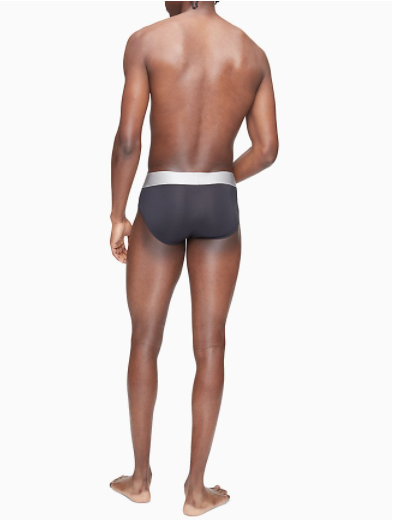 The metallic logo waistband is the key feature of this pair. Another prominent feature of this men's brief underwear is the pouch element. The way it has been designed, your genitals get great support.
About the brand
A global lifestyle brand that exemplifies bold, progressive ideals and seductive aesthetics are what defines Calvin Klein rightly. With our provocative imagery and striking designs, we ignite the senses, seek to thrill and inspire our audience.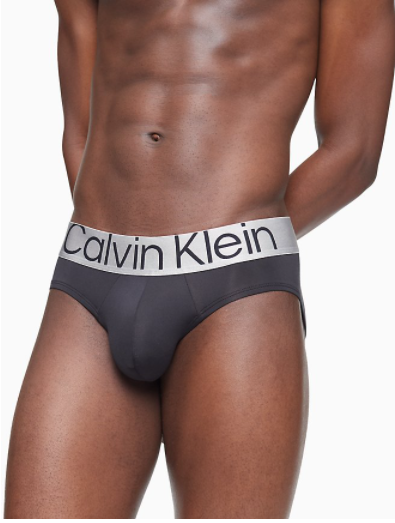 Calvin Klein was established in the year 1968, founded by Barry Schwartz, the business partner. We as a brand have built a reputation as a leader in American fashion through our clean aesthetic and innovative designs.
Fabric Used
88% Recycled Polyester- 12% Spandex
Sizes
Colors
What do we like?
Calvin Klein's Reconsidered Steel Reconsidered Steel Micro hip brief has been designed out of sustainable recycled yarns. This is something which we like about this pair. Wearer gets to experience a premium and ultra-luxe feel.
This pair of men's brief underwear includes a metallic Calvin Klein logo waistband. Further, this waistband offers excellent shape retention. This pair of men's brief underwear comes with a supportive pouch with contoured seams. Hence, the person wearing it gets a sleek fit.
Men who like to shop for underwear on a budget must consider this pair as it comes in 3-pack. It is comfortable, appropriate for your everyday activities, and provides the right coverage and support. Moreover, the snug fit of the underwear enhances the shape of your butt very gracefully.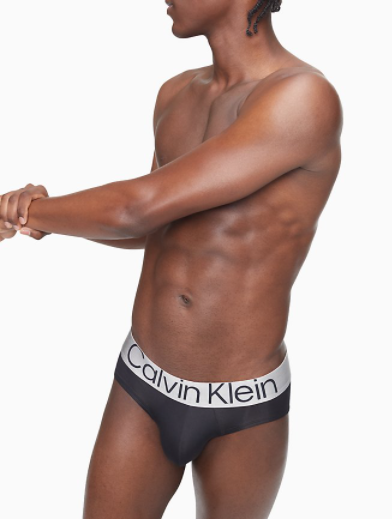 Designers have used 88% Recycled Polyester- 12% Spandex which increases the flexibility and strength of the style. This stylish pair of men's brief underwear is ideal for your workout sessions. Furthermore, it allows you to move freely and perform the way you want to. In simple words, Reconsidered Steel Micro Hip Brief by Calvin Klein moves with you.
Care Instructions:
This pair of male underwear can be machine washed. However, we are not sure about tumble drying and ironing. So, it's better to skip these steps. Instead, hang air-dry.
What can be the problem?
None
Price:
$64.50
Buy it here:
https://www.calvinklein.us/en/mens-clothing/new-arrivals-mens/reconsidered-steel-micro-3-pack-hip-brief-62023073
Related Articles:
How to Get Habitual With Men's Jockstrap Underwear?
The only reason to wear Intymen jockstraps
Savage got the perfect male lingerie pairs if thinking to gift this Valentine's
Did you know these fascinating facts about Valentine's Day?
How efficient are PRIVATE STRUCTURE'S bestsellers collection?