Image source: Male power
Introduction
The very first time you take a look at the Male Power Silk Knit Panel Short, you would think, this is like an ordinary pair of men's underwear and why would anyone want to invest in these? Well, you are highly mistaken if you think like that because the men's fashion underwear style is all about bold looks as well as the feel of luxury below the belt. Made with love and actual silk, you are in for some supersensuous action underneath with men's boxer briefs. Whether you pick these for self-love or some actual romantic action, this Male Power underwear is worth every penny you invest in these mens boxer briefs.
Check out the video of these Male Power Silk Knit Panel Short here:
Main features:
The moment you give the fashion underwear for men the first glance, you would find the super glossy and silky texture of the fabric. The next you'd eye on the thick elastic waistband featuring the name MAGIC SILK in repetitive throughout the waistband. Talking about seams, you would find thick piping like stitch across horizontally in the front over the pouch as well as around the pouch for a minimal movement. Not only that, the center seam on the pouch certainly adds more room for the package to settle in comfortably. The following at the key features about this mens boxer briefs:
Super-luxurious silk knit boxer briefs hug the body's contours
Contoured pouch with center seam for supportive uplift
Special paneled construction gives a great fit
1 1/4 inch logo elastic waistband maintains its place
3/4 fold under elastic-free leg hem
Full rear coverage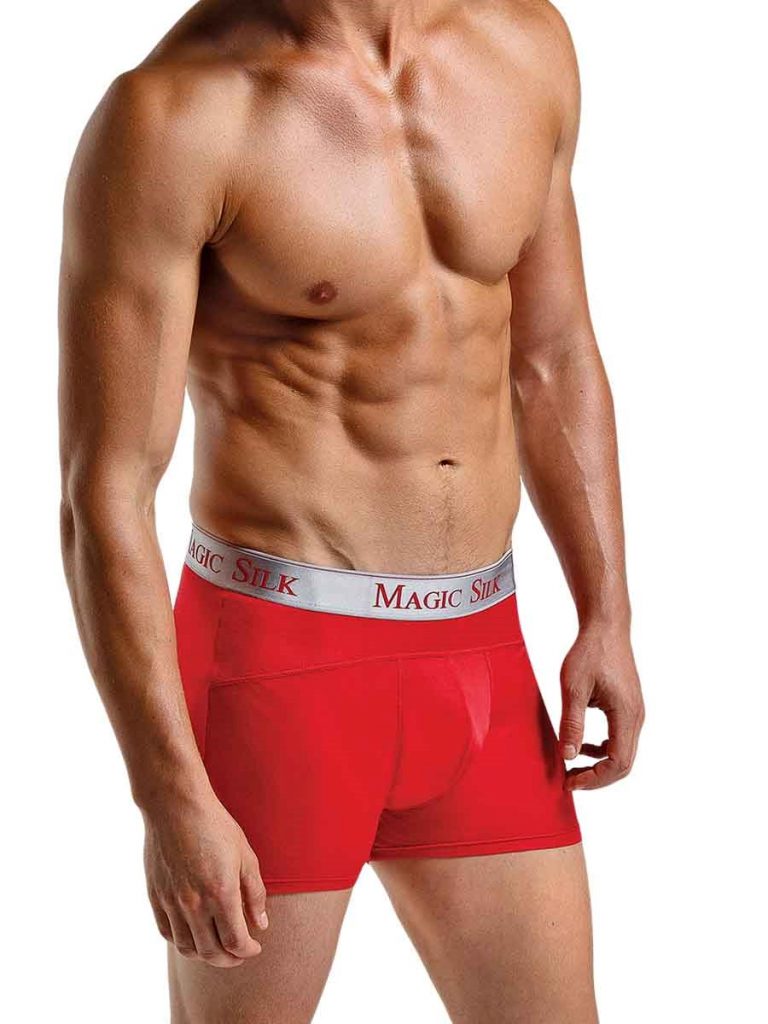 About the brand
Founded by Sam Baker in the mid-1970s, Male Power started with a vision to target the gay male demographic—a move that was considered revolutionary at the time. Click here to know more about the erotic underwear brand.
Fabric Used
The fabric composition incorporated in these mens boxer briefs is 100% silk. There are numerous benefits of choosing this pair of silk underwear includes antifungal properties, high breathability, made naturally, is thermal controlled that makes it perfect for any kind of season.
Sizes
Small
Medium
Large
Extra large
Colors in series
Black
Blue
Red
What do we like?
We like the fact that the name of these mens boxer briefs by Male Power underwear does justice to the actual product. Silk underwear is something that needs to be experienced by one and all. The fit, feel and the looks are spot-on. Additionally, when you get this at this price, you should go for it.
What can be the problem?
We don't see any problems here because they're comfortable to wear and are body-defining.
Price
$27.16 – $31.00
Buy it here:
https://malepower.com/silk-knit-panel-short/
https://www.amazon.com/Magic-Silk-Knit-Panel-Short/
https://www.freshpair.com/silk-knit-panel-boxer-brief
Read more here:
Underwear Suggestion: Modus Vivendi Festive Bottomless
Underwear Review: Gregg Homme Octane 2.0 Harness Boxer
New Launch: Pikante Baloo Castro Jockstrap
Underwear Suggestion: CandyMan Underwear Thongs