Image source: Mensunderwearstore
The highlights of mens jockstrap underwear
The sporty and sleek-looking men's underwear by Pikante Underwear is all about working hard and playing even harder. The Baloo Castro Jockstrap by the men's underwear brand is all about holding your junk in shape and adding to the view even outside the pants or any kind of lowers that you wear. Here are are the following highlights of the men's jockstrap underwear.
Sleek structure with a design that pleases your skin and the intimate area.
Designer print more like the leopard or a tiger that covers the entire fabric surface.
Fabric composition: 93% Polyester and 7% Elastane. Stretch microfiber fabric forms a sleek ultra-defining fit.
The anatomically-molded pouch is spacious and normally formed to oblige your bundle for an attractive lift and profile.
Wide back straps offer attractive butt lift and extra athletic help.
The piping on the edges makes sure to keep the fabric in shape and in place as well.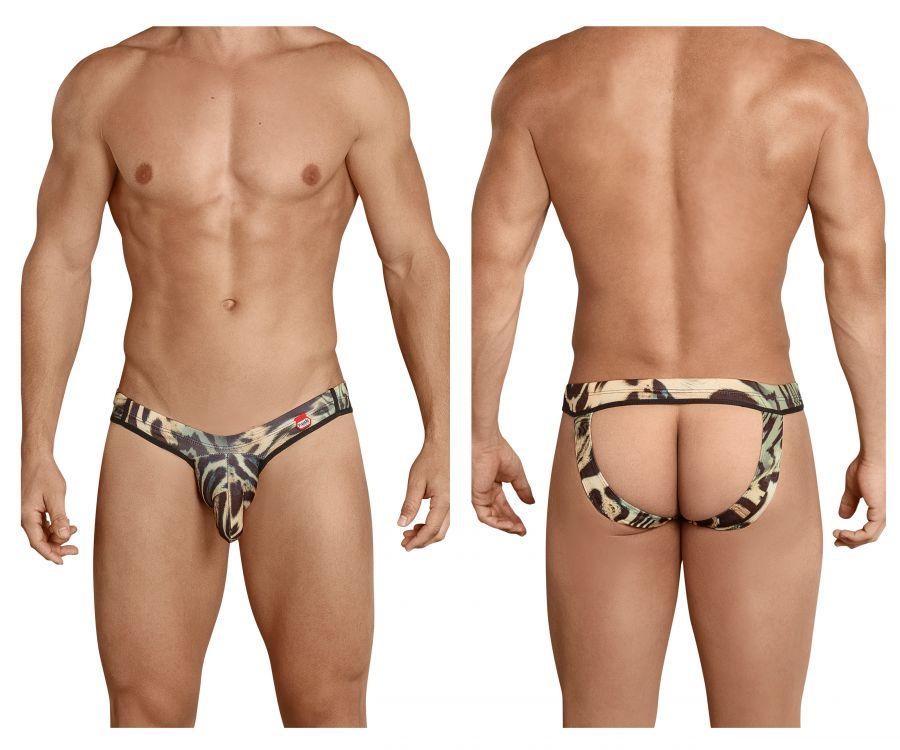 About the brand
Situated in Colombia, Pikante works in men's underwear with exhilarating prints and eye-catching materials, for example, transparent or glowing textures. Know more about the sexy underwear by clicking here.
Check out the video link:
About the Pikante Baloo Castro Jockstrap
When you first take a look at the Pikante Baloo Castro Jockstrap, you would notice that it is a slim men's underwear style that fits you right and enhances what you've got down there. The moment you slip into it, you'd feel that you below the belt region is well lifted and supported everywhere the fabric covers. The front has a pouch that lifts the manhood really high making it visible in terms of the bulge even inside the pants. Well, men who look up to such men's enhancing underwear styles will thank Pikante underwear for that.
When you flip over, you'd find that the area covered by the straps is supported and held together well. However, the butts pump out making the posterior look round and plump. Men seeking enhancement in the back also get benefited with this mens jockstrap underwear.
Underwear Styles in series
When you talk about the series, the 'Baloo' is the name of the collection with two mens underwear styles available in it. They include:
Mens jockstrap underwear; and
Mens brief underwear – with a little more fabric than the conventional briefs for men, this number by Pikante underwear makes sure to pep things up even in conventional underneath fashion.
Fabric Used
93% Polyester and 7% Elastane
Colors in series
Gold
Buy it here:
https://www.pikanteunderwear.com/products/pikante-9286-jockstrap-gold-1https://malebasics.com/pikante-9286-baloo-castro-jockstrap
https://www.steveneven.com/pikante-9286-baloo-castro-jockstrap-gold
https://malebasics.com/pikante-9286-baloo-castro-jockstrap
Read more here:
Underwear Suggestion: Modus Vivendi Festive Bottomless
Underwear Review: Gregg Homme Octane 2.0 Harness Boxer
New Launch: Pikante Baloo Castro Jockstrap
Underwear Suggestion: CandyMan Underwear Thongs