Image source: Cocksox
Features that make the men's brief underwear a must-have
The very first look of these men's briefs itself makes you fall in love with the pairs. Cocksox underwear is one of the finest names in the men's underwear industry that has made it possible for men to feel comfortable even in the most conventional underwear for men. Hence, these briefs for men are one of the most comfortable and revolutionary options that you can have for yourself to keep you well supported in the right place as well as hold your junk at the comfort and in a relaxed position. You would notice that the sleek and conventional fit of the Cocksox Waistband Briefs for men suit your body type (all body types). The pouch on the other hand is designed to be slightly loose so that there's some room for your manhood to breathe well. Go ahead and take a look at the descriptive features of the Cocksox men's briefs below.
Unique Cocksox enhancing pouch
32mm soft elastic waistband for extra comfort
Flattering, unlined cut for maximum style
Pad Print care label (no more scratchy tags!)
Designer style
Made from Supplex® offering the feel of cotton with the benefits of advanced fiber technology
Fabric composition: 92% Supplex® 8% Lycra®
Fully breathable
Hold their shape after many washes
Durable & long-lasting
Draws moisture from the body
Colorfast
Long-lasting softness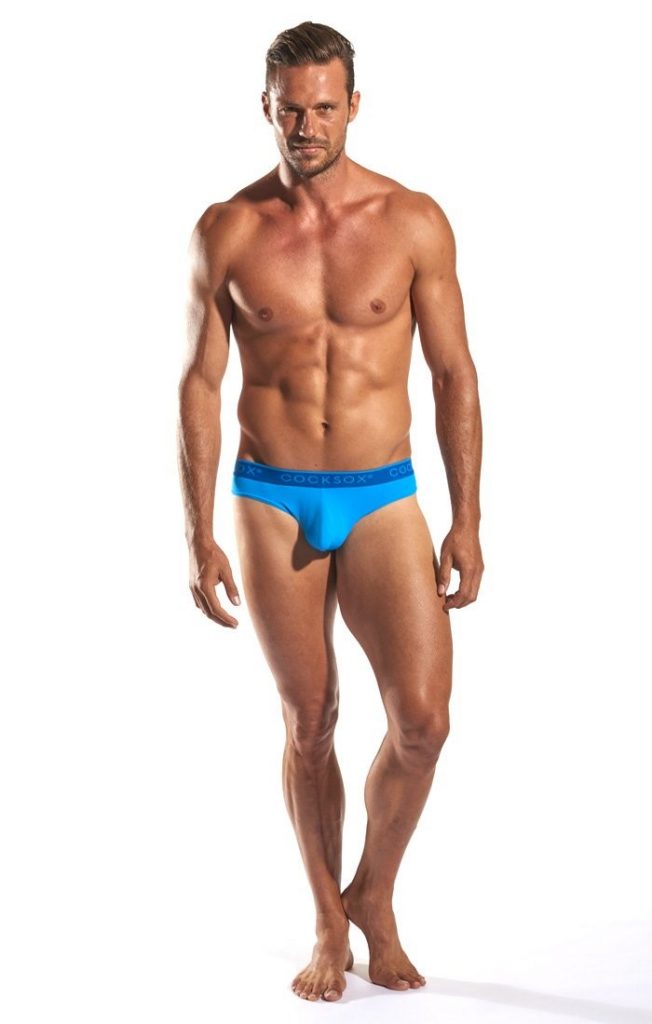 Image source: Cocksox
Why have these men's brief underwear?
There are many reasons for which these designer underwear are perfect for your personality. They are:
The enhancing underwear properties
The sleek and conventional coverage
The solid color that looks absolutely stunning; and
The comfort of the briefs for men
Check out this photoshoot done by the men's underwear brand for this Cocksox underwear. Check it out here –
Why you shouldn't have this men's underwear?
You should have these men's briefs for every possible reason.
About the brand
Cocksox underwear was introduced back in 2006 by Nadia Kanawaty with a reason why men had no options when compared to women's lingerie. In March 2006 they released the first Cocksox® 'no rings, no slings' enhancing briefs, and triggered a revolution in men's underwear. Know more about the fashionable sexy underwear brand by clicking here.
Product fitting
Well, you'd notice that the fit of the men's brief underwear on the model in the image for sure but you can take a look at this review done by Undie Guy on YouTube of this Cocksox underwear. Check it out here –
Model Instagram
Undie Guy
https://www.instagram.com/undieguyx/
You would love the supportive fit on the body (as we mentioned in the blog earlier as well). The perfect blend of comfort and support rendered by the fashion underwear is absolutely the best. You would love how the fabric blend caresses and pamper your skin.
Best occasions
Every day – when you want to feel peppy, colorful, and confident even in your skin.
Fabric composition
Made from Supplex® offering the feel of cotton with the benefits of advanced fiber technology
Composition 92% Supplex® 8% Lycra®
Available sizes
Small
Medium
Large
X-large
Why would we recommend it?
For the conventional coverage, supportive and comfortable design.
Price
$23.20 – $28
Buy it here:
https://www.cocksox.com/products/cx03-waistband-brief?variant=1249428907
https://www.walmart.com/ip/Cocksox-Waistband-Enhancing-Pouch-Brief-CX03/496804793