"Man, you need to look at Intymen Second Skin Trunk for men because this is so perfect that it's difficult to find out one single flaw. It's alright if you don't believe us because good things should always be experienced. This was basic knowledge, to know this in-depth you need to scroll down."
The Highlights of Men's Trunks
Intymen Second Skin Trunk for men is that ancient red wine- classy, sophisticated, and evergreen. The best part about this men's underwear is that it's simple yet looks classy.
Its snug-fit feature embraces your manly features and it's quite visible when you wear them with fitted pants. 
About the Brand
Intymen Underwear was established in the year 2009 in the men's apparel industry. Intymen offers interesting styles of briefs, mens boxer briefs , thongs, and Jockstraps for men .
It even offers a large variety of swimwear including swim bikinis, boxers, and mens trunks in vibrant shades and modern designs. Intymen even offers a unique range of men's shapewear for those who want to flaunt their body shape the way it is. 
For more about the brand, visit this link
About The Men's Underwear
This pair of men's trunks are good for your everyday comfort. You feel more secure due to it's contour pouch. The contoured pouch added in this provides a nice bulge which enhances your entire bottom appearance. This Intymen men's underwear comes with a broad waistband on which you will find a brand's tag.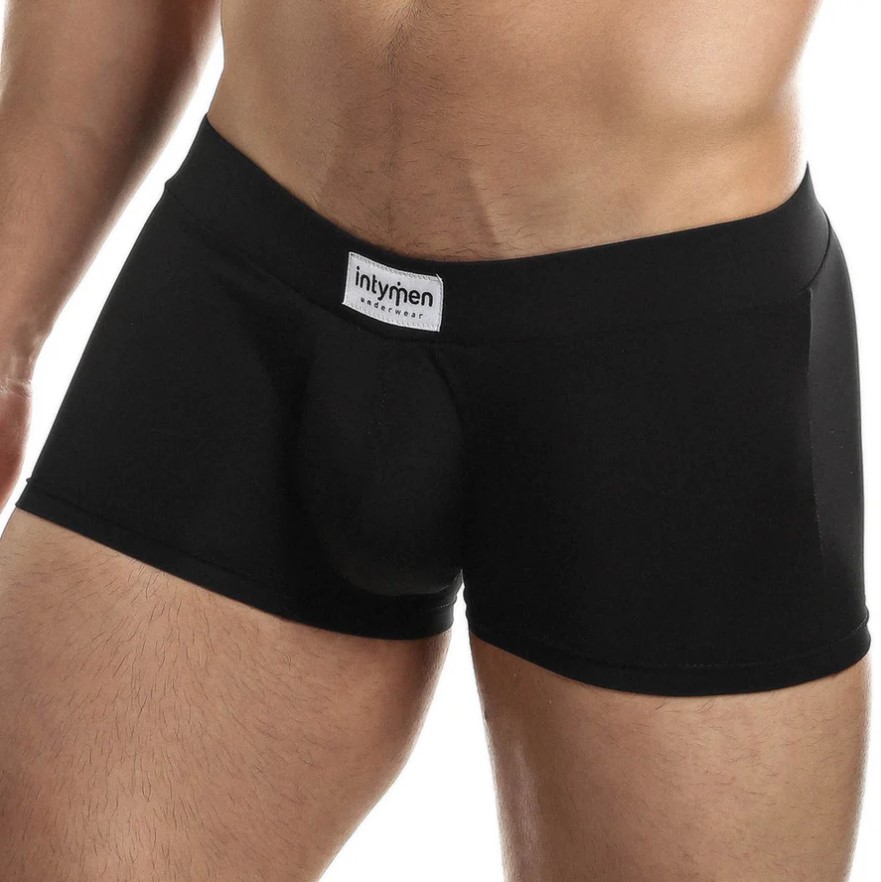 Usually, styles like jockstrap underwear, Jockstrap Thong, mesh underwear, and pouch underwear are what is advised to gym men or to those who are involved in exercising but if you are not comfortable with such styles you can wear Intymen Second Skin Trunk for men. It will provide you exactly the same amount of comfort and protection. The combination of Polyamide and spandex in this men's underwear embraces the stretchability and flexibility of this  underwear.
This pair of mens underwear is recommended to those who feel uncomfortable in styles with underwear labels. This pair of men's trunks is available in various shades and sizes. This pair of men's trunks is available in various shades and sizes. Whether it's summer or winter, Intymen Second Skin Trunk for men can be considered , checkout the more Underwear Review here.
Key Features:
1.Comfortable, sleek and breathable
2.Smooth and relaxing
3.Provide great coverage
4.Made out of Polyamide and spandex
5.Available in various colors and sizes
To know more about this classy pair of men's trunk, just click on the link mentioned below,
https://www.mensuas.com/blogs/new-launches/brand-new-intymen-second-skin-trunk
Thank us later!
Fabrics Used
Colors Available
Sizes
Price
$20.56
Buy It Here
Mensuas: Intymen ING069 Second Skin Trunk
Intymen: Intymen ING069 Second Skin Trunk
Skiviez: Intymen ING069 Second Skin Trunk
Erogenos: Intymen ING069 Second Skin Trunk
You May Also Like:
Calvin Klein launching new models for Its New Men's Underwear Collection
Columbus Day Is Here And This Is How You Should Spend The Day!
Mensuas Fan Contest: The Ideal Way To Show Your Love For Mens Underwear
Mens Pouch Underwear Rules You Cannot Miss – And Should Not Miss!
Men's Brief Underwear Will Never Go Out Of Style – Know More!