The highlights of the men's thong swimwear
The very first look at these mens sexy swimwear – and – you have this kinky feeling inside you. In fact, in terms of looks, these are absolutely stunning. Moreover, they hug you like men's sexy underwear for sure. However, they are for swimwear purposes. These styles by Koalaswim are ideal for any male who has a neoprene fetish or simply wants to appear great in a sexy thong. Suits both the femme and bulging styles.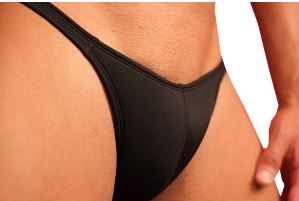 A slim design men's thong for the modern man.
Low-rise fit on the lower body for a sexy appeal.
Bulge-worthy pouch that holds the manhood with a snug fit.
Trimmed waistband with double-stitch for added support.
Fabric: Matte-finished neoprene
About the Koalaswim brand
Koala Swimwear first opened its doors in 1990. Further, their mission is to provide swimsuits, tights, shorts, and seductive spandex designs. In fact, offer options that honor the masculine body. The brand adores bulges, male-to-female transition styles, men's tights, and many other options. When it comes down to it, the brand is in love with spandex. Outrageous bikinis, crazy g-strings, bulge boosting suits, men's tights, and so much more are all available at Koala! Koala has always been on the cutting edge of radical fashion. In addition, the label brings options that you have never seen before. Male to female transition swimwear, underwear, and shorts are a logical extension of what we've always done: produce designs that the brand deals in.
About the Mens Thong Swimwear
If you have been looking for that kink and kick in your swimwear style, this men's thong is absolutely for you. With a sleek design, you will find solid color throughout the surface. The name itself has Wet Slut, therefore, we don't have to stress and pause on its intentions. With neoprene as its base fabric, you will have the ability to stretch far and wide. Thus, you will have no problem indulging in beach activities.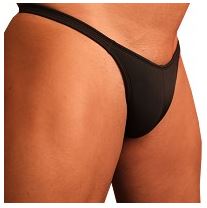 With a low-rise fit on the lower waist, you will find double-stitch throughout the fabric. Further, the pouch is designed to hold and support the manhood. In addition, the center seam adds more comfort and room for the junk. Taking the action to the back, your butts are bare with the conventional thong coverage.
Product fitting
The swimwear for men hugs you in the right spots.
Fabric composition
Neoprene
Why do we recommend Koalaswim?
The mens swimwear by Koalaswim will be a new experience for men who've never tried neoprene. Moreover, the sexiness that the pair provides will be worth it out in the open. You might even get lucky with these.
Available sizes
Small
Medium
Large
Price
$39.00
Buy it here: https://www.koalaswim.com/wet-slut-thong
You May Also Like:
6 reasons to pick Spanked Micro Bulge Shorts
Introducing Lady Gear Micro Shorts by Koala Swimwear- the sexiest pair of shorts
Underwear Review: Anal Experience Brazilian Bikini Men's Swimwear
Men's Underwear Styles apt for Easter celebration