Making sandcastles on the beach, trying to win from ocean waves in stupid game, clicking pictures of sunrise or sunset, or just running in men's trunks made in quirky prints or solid colors. We know you all are missing those small moments that you created with your friends and partner before Covid-19.
At present, all you can do is just go through your old pics and try to relive those moments once more. Heartbreaking isn't it! Life has paused for a while but not forever hence stop being such a depressed person. Till the time things are off track, how about spending some money on men's trunks so that when you step out of your house to have fun on the beach, you can flaunt your features in a freshly bought pair of men's swim trunks.
So, now when you have thought of investing in male trunks, it's time to make you aware of some of the best swimwear brands which do not create "a pair of trunks for men", they create a masterpiece for better staying and swimming experience.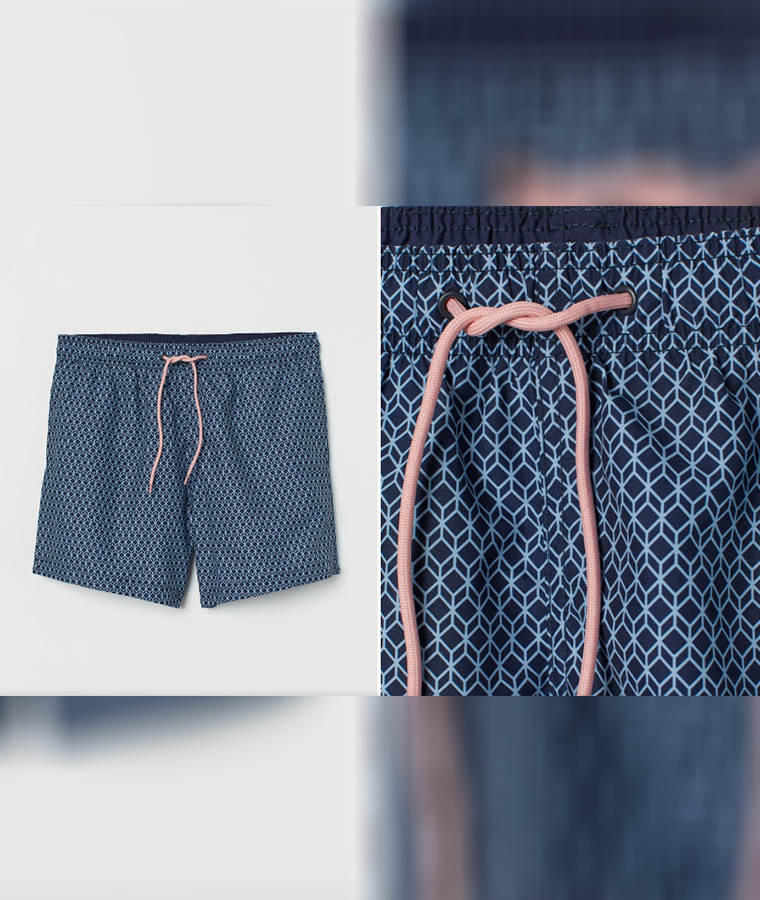 ---
H&M Printed Swim Shorts
HM.COM
Price : $17.99
The current scenario has killed " vacation-spirit" in people. H&M Printed SwimShorts for men can revive those feelings again.
These swim shorts for men are designed in woven fabric with a printed pattern. For better hold on your waist, creators have included elasticized drawstring waistband with side pockets, back pockets with hook-loop fastening. Mesh liner keeps your swimwear dry.
Fabric Composition:
Fabric: Polyester 100%
Lining: Polyester 100%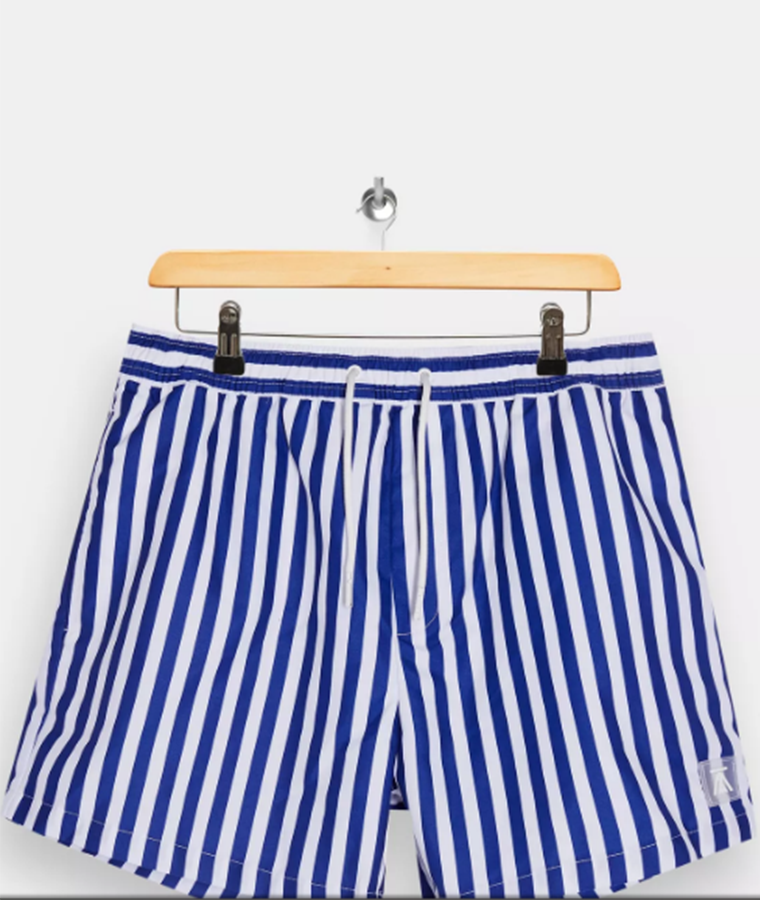 ---
Topman Blue Stripe Swim Shorts
TOPMAN.COM
Price: $20
Color: Navy
This classic fit designed in stripe fabric by Topman is second on our list. Well, this comfortable and classy pair of male trunks should be everyone's cup of tea and part of their closets.
This all-over blue and white stripe swimwear comes with a drawstring with an elastic waistband. This classic swim style has been designed from fabrics such as polyester derived from plastic bottles and other plastic items. They do care about nature. The machine-washable factor makes it every man's favorite.
Fabric Composition:
100% Polyester Recycled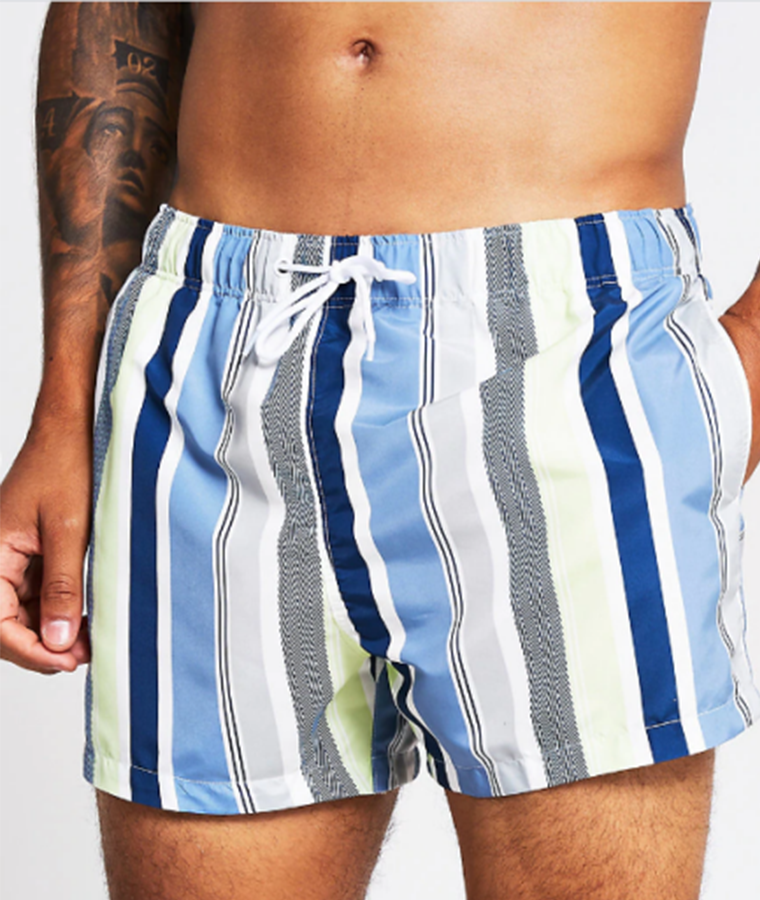 ---
River Island White Stripe Swim Shorts
RIVERISLAND.COM
Price : £18.00
Print: Blue Stripe
River Island White Strip men's swimwear is lightweight on the skin and soothing to eyes thanks to its cool colored stripes. These are great for your beach time.
Contains blue stripe print, elasticated drawstring waistband with side slip pockets. Because of 100% Polyester, you feel dry and lightweight. If you feel like ironing them, go ahead. Bleach, tumble dry, and dry clean should be avoided.
Fabric Composition:
100% Polyester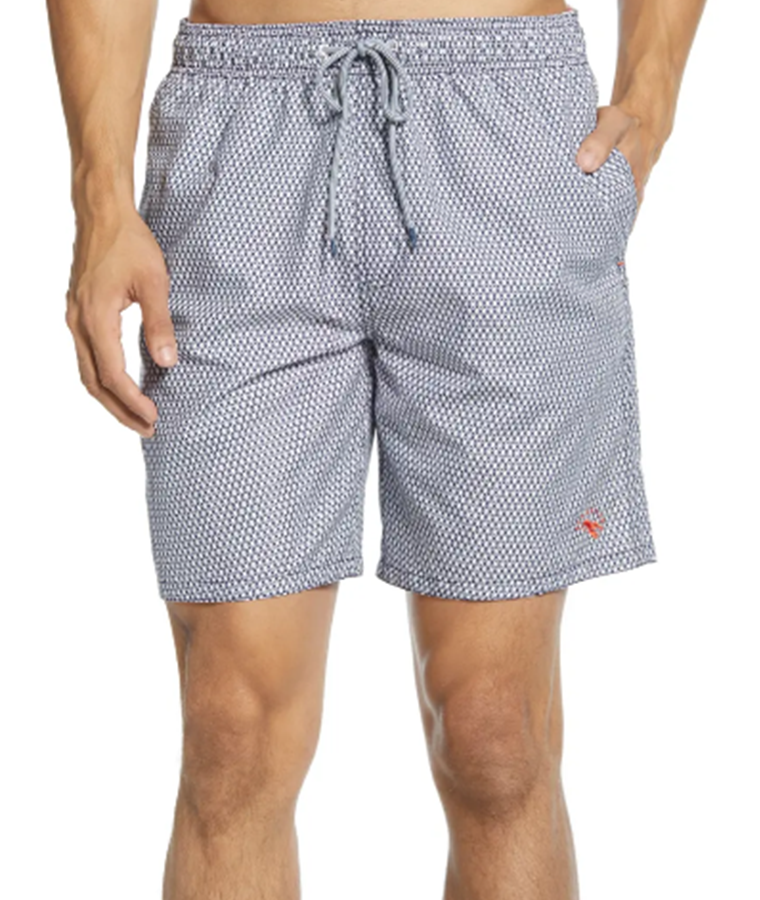 ---
Elba Slim-Fit Ted Baker London
NORDSTROM.COM
Price: $49.50
Color: Navy
Elba Slim-Fit Trunks for men by Ted Baker London is resort-ready and lightweight on the skin.
These include geometric print and bright embroidery with a neat slim fit. For better hold and security, designers have included elastic waistband with drawstrings. These men's trunks include two side seam pockets and one back pocket. These male trunksare available in two different sizes, 3(m) and 7(3xl). Comprises of lining and can be machine washed and line dry.
Fabric composition:
100% polyester
Mesh Liner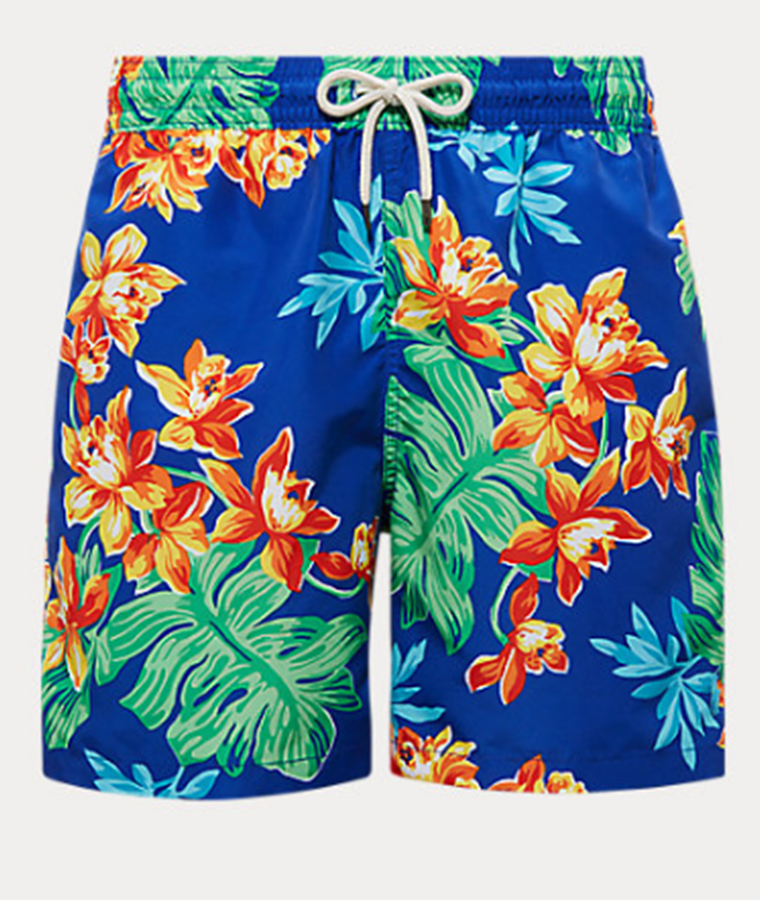 ---
Ralph Lauren 5.5-Inch Traveler Swim Trunk
RALPHLAUREN.COM
Price: $39.99
Print: Tropical 2020
Ralph Lauren 5.5 Inch traveler swim trunk for men is full of life, thanks to the creators who have designed these swim trunks in vibrant tropical pattern fabric. Being a mesh lines swim trunks for men, you get the freedom to pair with your favorite T-shirts for pool party or beach.
Traveler swim trunks include elastic drawstring waistband, side-on-seam pockets, back right buttoned pocket, and buttonhole at the back pocket. The label of Polo Ralph Lauren swimwear can be seen in the back right pocket, it's woven.
Whether you pick them in small size, medium, or large size, all sizes have a 5 1/2 inseam. The medium size has a 10″ rise. Can be washed with a machine.
Fabric composition:
Shell and briefs: Polyester
Mesh Briefs provide additional support.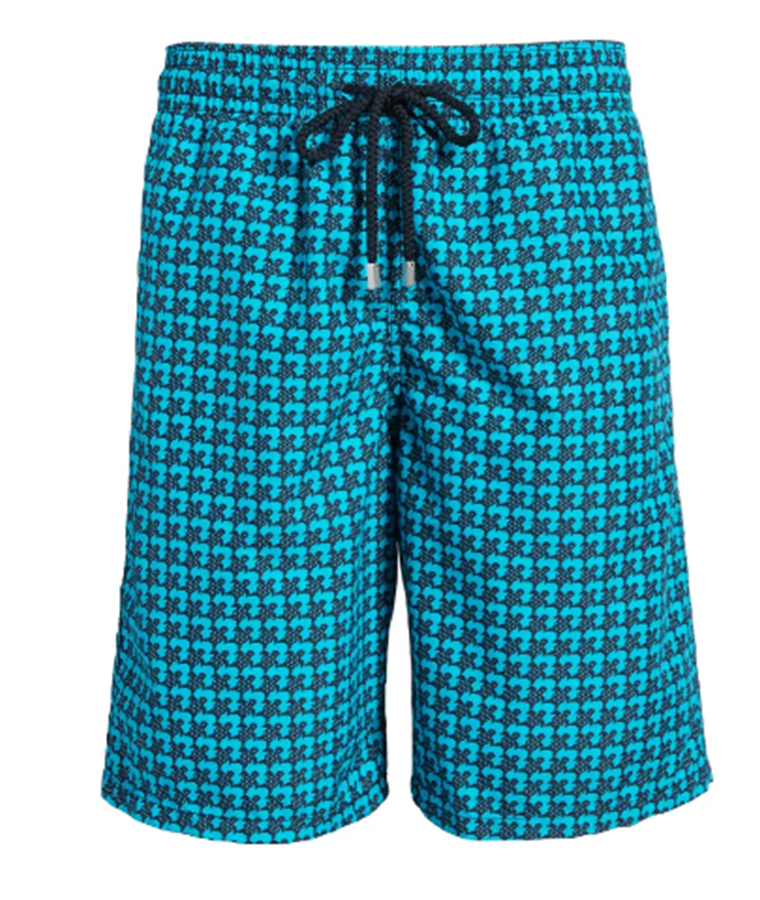 ---
Vilebrequin Okoa Baby Trope Print Swim Trunks
NORDSTROM.COM
Price: $150
Color: Azure
Vilebrequin swimwear for men combines casual elegance, originality, impeccable taste, and quality what makes Vilebrequin swimwear for men different from other brand's male trunks.
Speaking about Okoa Baby Trope swim trunks for men, these are designed in bright digital print which is perfect for your poolside party and beach time. The length of this swimwear is a little longer. These trunks for men are filled with qualities such as quick-drying, supportive comfort.
Okoa Baby Trope swim trunks for men comes with elastic/drawstring waist. It even includes on-seam pockets, a back hook, and a loop flap patch pocket. Wearer gets the option of cleaning them with hands and machines. This style can be Tumble dry.
Fabric composition:
Mesh-lined
100% polyamide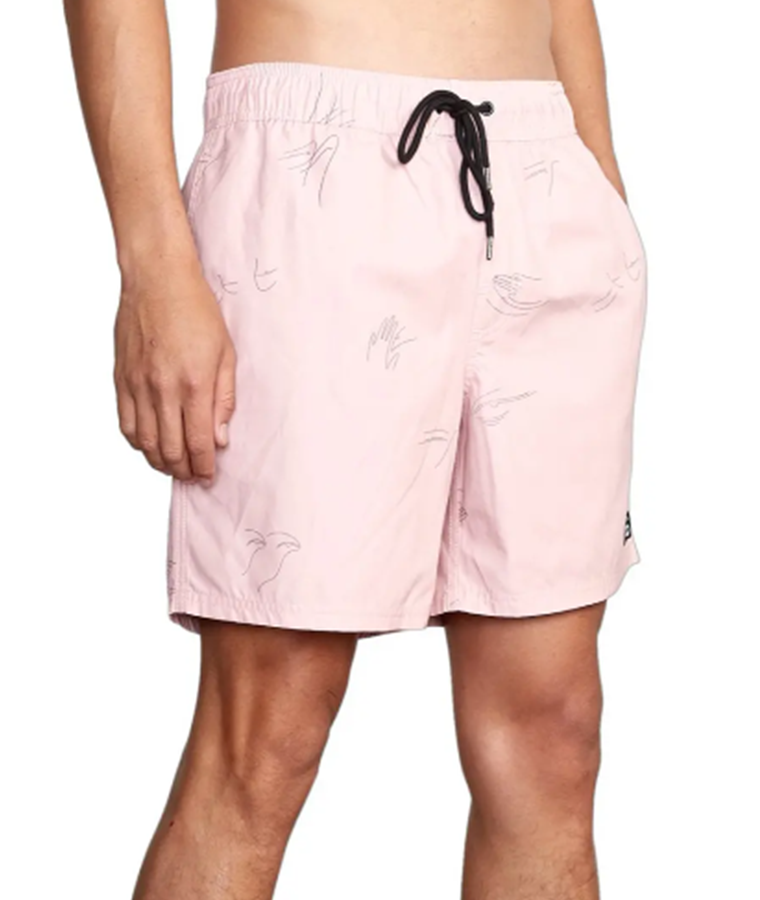 ---
RVCA: Opposites Solid Swim Trunks
NORDSTROM.COM
Price: $50
Color: Coral Pink
RVCA opposites Solid Swim Trunk for men is stretchy and has been designed out of quick-drying fabric. These pair of male trunks are known for providing comfort in every situation, whether you are in the water or outside, you will still feel cozy. These are made with solid coloring and metal-tipped drawstrings.
Speaking about stitching details, its inseam is 7″ with 24″ leg opening, 11″ front rise, and 16″ back rise( size Medium). Elastic drawstring offers you security and confidence. It includes other features such as side seam pockets, back flap patch pocket with drainage grommets.
Tumble dry and machine wash is good for opposite solid swim trunks by RVCA.
Fabric composition:
55% polyester, 35% cotton, 10% nylon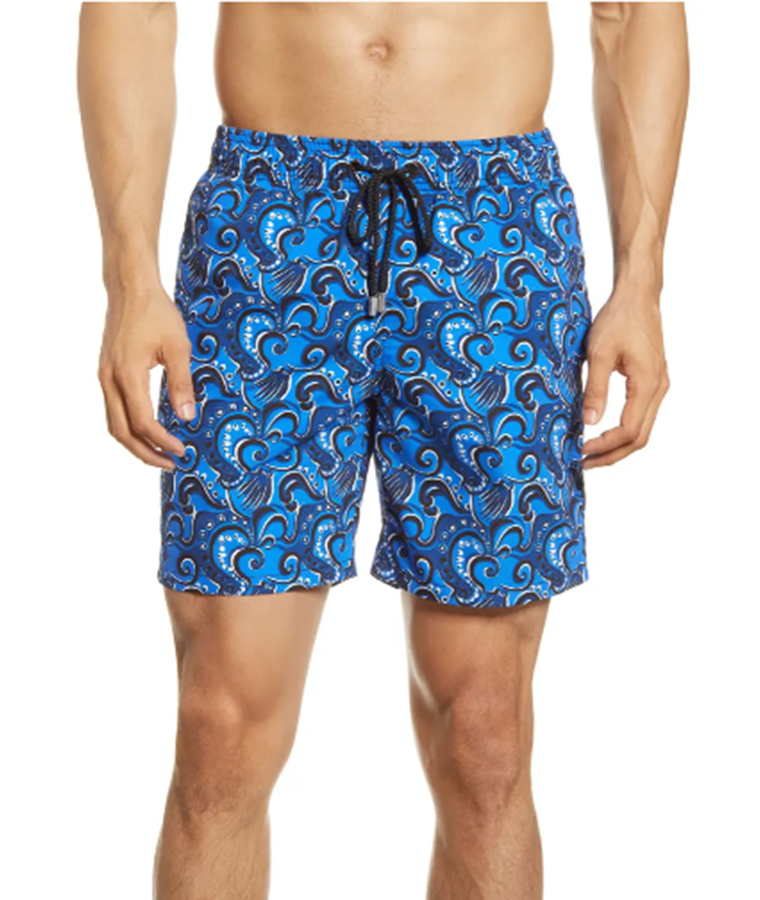 ---
Bugatchi Ocean Print Swim Trunks
NORDSTROM.COM
Price: $86.43
Color: Ocean
Bugatchi makes men's clothing and shoes with an unwavering commitment to style and sophistication. Besides clothing and shoes, even their swimwear collection gives you classic and timeless vibes. Bugatchi Ocean Print swim trunks for men is one of the elegant pair that includes comfortable adjustable waist and pockets.
These male trunks can be washed in a machine and tumble dry, isn't that a great thing. 100% polyamide used in it make these swim trunks perfect for your swimming. Also, its lightweight factor provides you the feeling of nakedness down there.
Fabric composition:
100% polyamide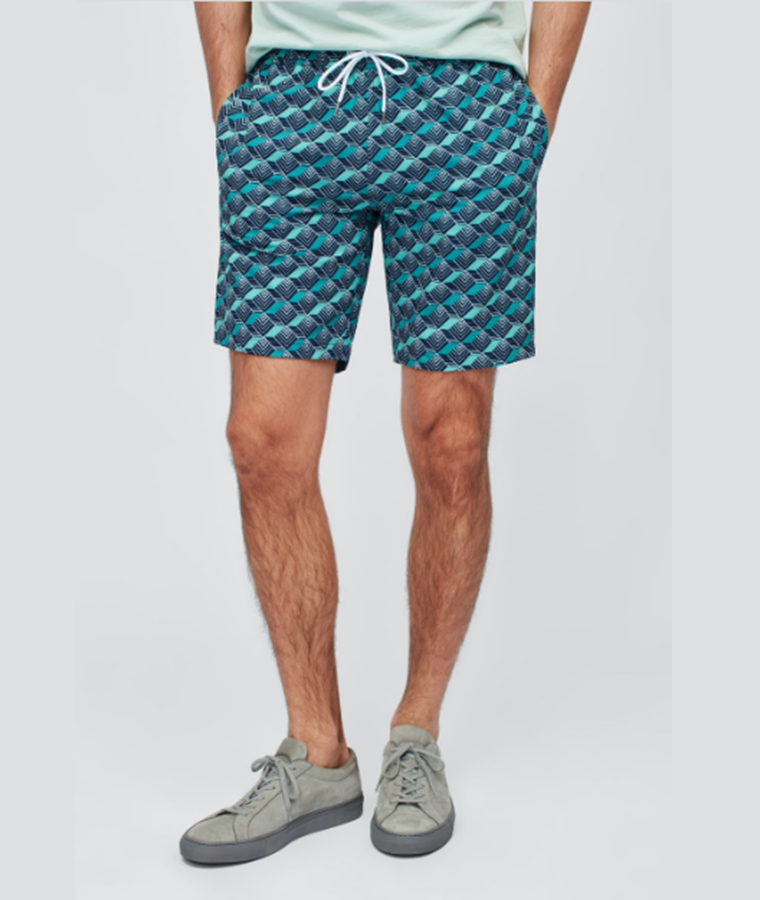 ---
Riviera Recycled Swim Trunks by Bonobos
BONOBOS.COM
Price: $58
Color: Teal Hypnotic Geo
Riviera Recycled Swim Trunk by Bonobos is made for those who care for nature and are looking for brands creating " eco-friendly" men's swimwear as these trunks are made with 85% recycled polyester.
Coming back to its structure part. It includes an elastic waistband with an exterior drawstring. Its interior part includes mesh fabric. These male trunks offer on-seam pockets and a back patch pocket with a hook-and-loop fastener. Another feature that makes it different from other pairs of trunks is its contrast-colored interior waistband with pocket bags and key catch feature. The collaboration of 85% Recycled Polyester – 15% Spandex is what makes it the perfect form of swimwear.
Men who are opting for machine wash must wash them with cold water. Bleaching is not allowed in the case of Riviera recycled swim trunks for men. Tumble dry can be done at low temperature and cool iron them when required.
Fabric composition:
85% Recycled Polyester – 15% Spandex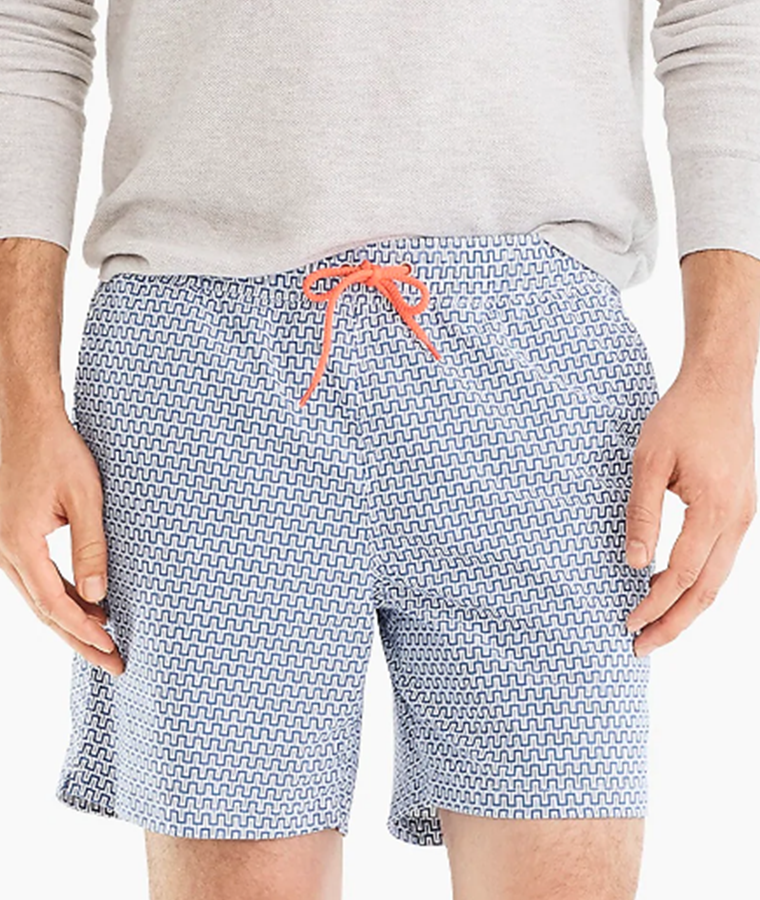 ---
6″ Stretch Eco Swim Trunk By J.Crew
JCREW.COM
Price: $69.50
Color: Raincoat Blue
Their slim-fit Eco Swim Trunk is made out of moisture-wicking, quick-drying nylon with a breathable mesh lining. Keeping the pollution in mind, creators have used environment-friendly fabric which has been created from recycled textiles and is made at Everest, a mill renowned for its sustainability practices.
These male swim trunks comprised of an elastic waistband with a drawstring and include a keychain loop at the waistband. One will find slant pockets, back welt pockets with button closure, and mesh-lined inside your trunks. It comes with a 6" inseam.
Machine wash is also recommended.
Fabric composition:
Recycled polyester or Nylon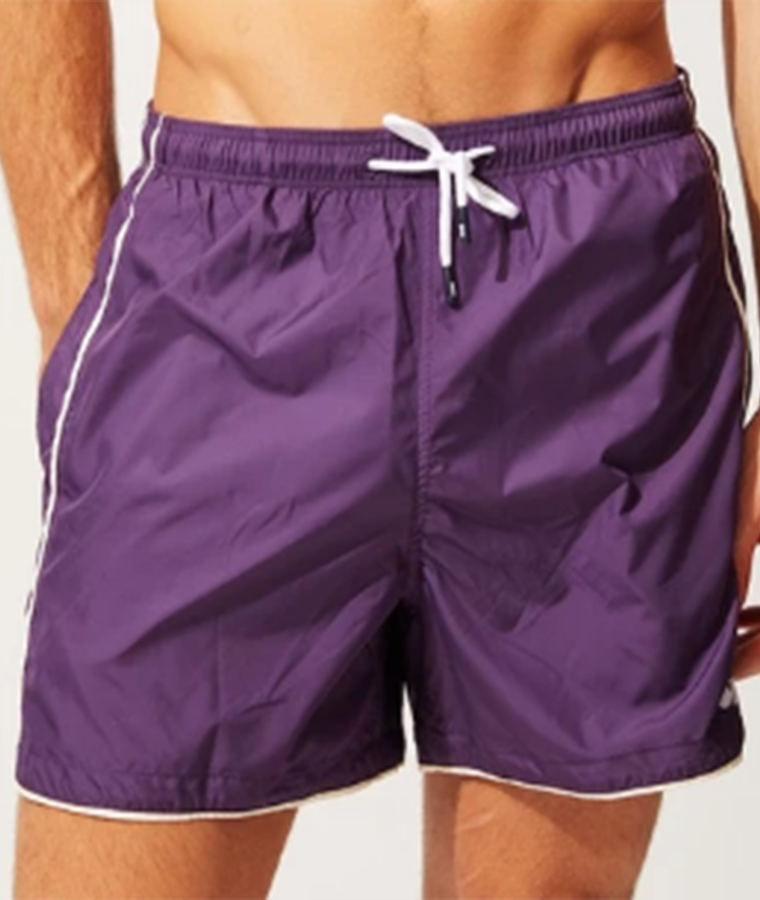 ---
The Classic EggPlant by Solid and Striped
SOLIDANDSTRIPED.COM
Price: $94.50
Color: Purple
The Classic Eggplant male trunk is simple yet elegant. Whether it's about wearing under the sun or it's about staying inside and enjoying your meal, this lightweight swimwear is ready to make you the center of attraction without letting you compromise on support and comfort factor. It even comprises of ultra-fast drying feature.
Speaking about its design part, it includes features such as two open front pockets and a back pocket with a hidden snap closure back pocket. Adjustable drawstring waistband is good for your mind(as it stays at the place so you don't have to be worried about wardrobe malfunction) and manhood. This swim trunk for men includes mesh lining. One can find Signature red grommets on the back and has been designed with 100% Polyester.
The Classic EggPlant by Solid and Striped has been designed in Morocco. Machine wash is not recommended therefore go for hand wash, that too with gentle soap.
Fabric composition:
100% Polyester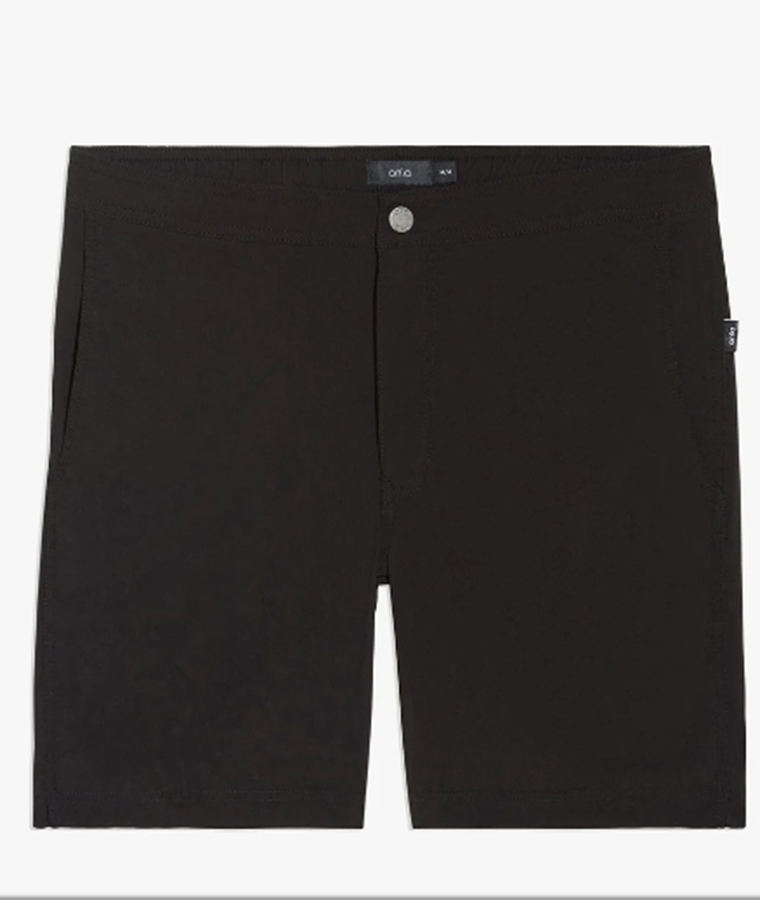 ---
Elastic Calder 7.5″ Swim Trunks by Onia
ONIA.COM
Price: $130.00
Color: Black
Elastic Calder 7.5″ Swim Trunks by Onia include elastic paneling at the back of the waist of your swim trunks. Also, it includes features such as quick-drying, further detailed with superfine mesh lining, custom hardware and reinforced,with a sized pockets.
Elastic waistband used in these male swim trunks adds comfort to your swimwear. It comes with a 7.5″ inseam and 17.5″ outseam. Other features including custom antique nickel hardware, zip fly with snap button closure, internal quick-dry nylon with adjustable drawstring, side pockets with snap back pocket, rear pocket with hidden snap, and rear locker loop.
100% Nylon, is what used in its creation. Cleaning ways such as bleaching, tumble dry and ironing can ruin the quality of the fabric used in your swimwear and its silhouette hence avoid them. Switch to hang dry.
Fabric composition:
100% Nylon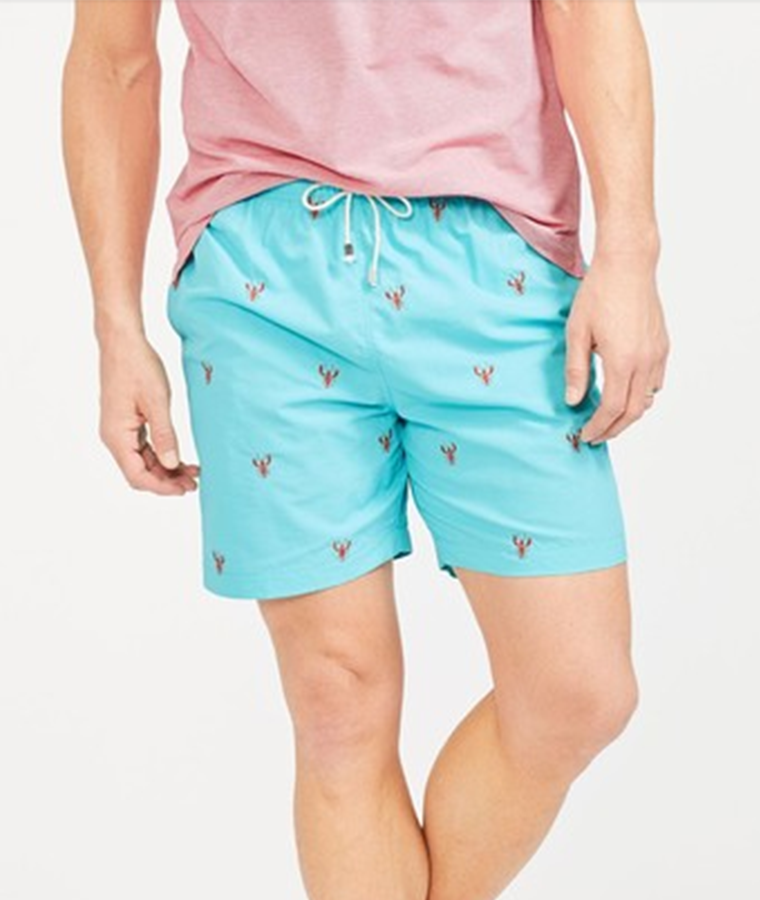 ---
Gibson Swim Trunks in Lobster by J.Mclaughlin
SHOPSTYLE.COM
Price: $98.00
Color: Navy
Gibson swim trunk in Lobster is all set to rejuvenate your dull and boring life with a dash of color and some witty prints. Apart from cute prints, let see what else these swim trunks have stored for their wearers?
Elastic waistband with front drawstring and side slant pockets and how can we forget back pocket with Velcro closure. These swim trunks for men are designed with 100% Nylon.
These can be machine washed in cold water and should be lay flat on a towel to dry therefore tumble dry is not an option for you. It comes with a 6″ inseam.
Fabric composition:
100% Nylon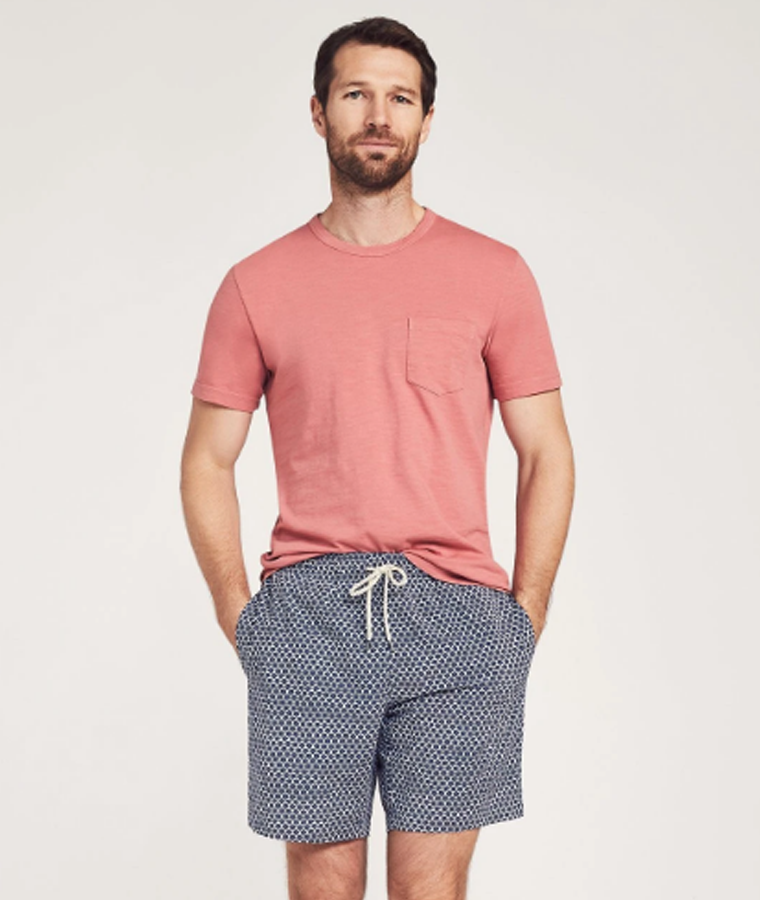 ---
Beacon Trunk- Fishscale Batik by FAHERTY
FAHERTYBRAND.COM
Price: $85
Print: Fishscale Batik
Faherty Eco-friendly custom-printed Fishscale Batik swim trunk for men is designed for your regular comfort. It includes a 7.5″ seam, elastic waistband that has been hand-crafted and includes drawstring at waist. It comes with a vintage sun-washed finish. Its super-soft high thread count mesh lining is perfect for your comfort. This men's swimwear includes durable water repellent for super quick dry. Back pockets, side pockets with advanced water draining technology, and custom rear eyelets for air and water evacuation are other features of these men's trunks are allowed to wash in the machine with cold water and should be hang-dry.
Fabric composition:
Recycled Polyester/Cotton blend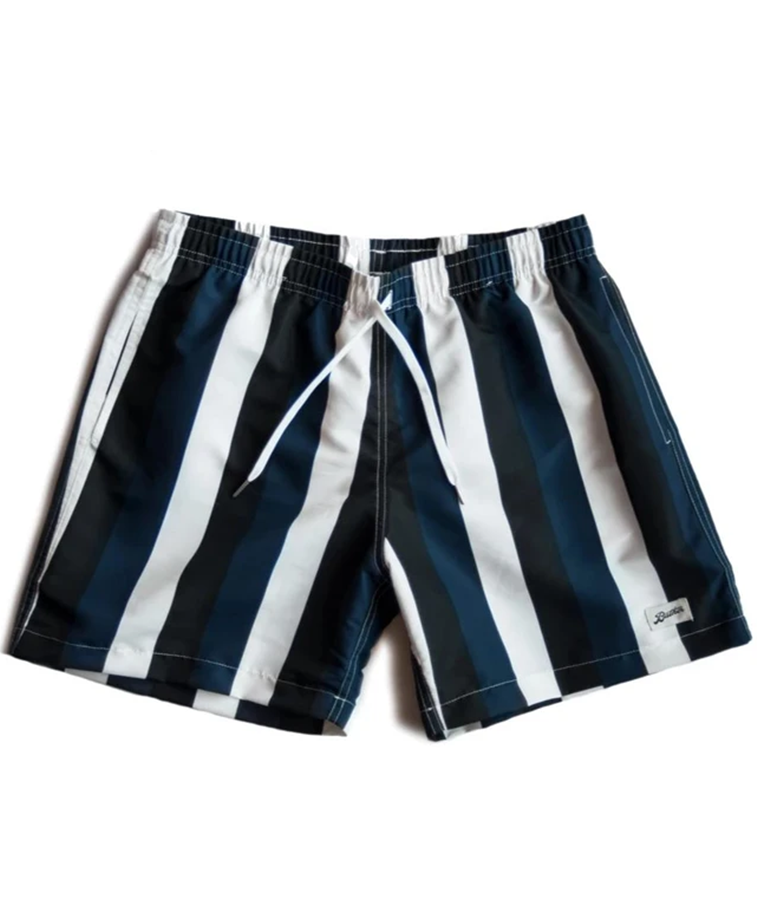 ---
Blue And Black Striped Swim Trunk by Bather
BATHER.COM
Price: $85
Print: Blue and Black Stripes
The Blue and Black Striped Swim Trunk for men are freshly launched by Bather in 4 different colors. This pair of swimwear is ideal for subtle print lovers as it gives you the freedom to pair them with any shirt or T-shirt of your choice. To attain the sophisticated look we would suggest you style these with a Linen shirt. Other highlights are mark Swim Trunk cut with an elasticized belt that has a ultra fine four-way stretch work lining, speedy dry shell, exclusively tipped drawstring, and back pocket snap nook. Its shell has been designed in 100% quick-dry polyester and lining in 90% Nylon, 10% Spandex ultra-fine mesh. It even consists of a back pocket with the Bather Snap feature. This men's swim trunks comes with a 5.5″ inseam and how can we forget deep side pockets.
Fabric Composition:
Shell: 100% Quick-Dry Polyester
Lining: 90% Nylon 10% Spandex Ultra Fine Mesh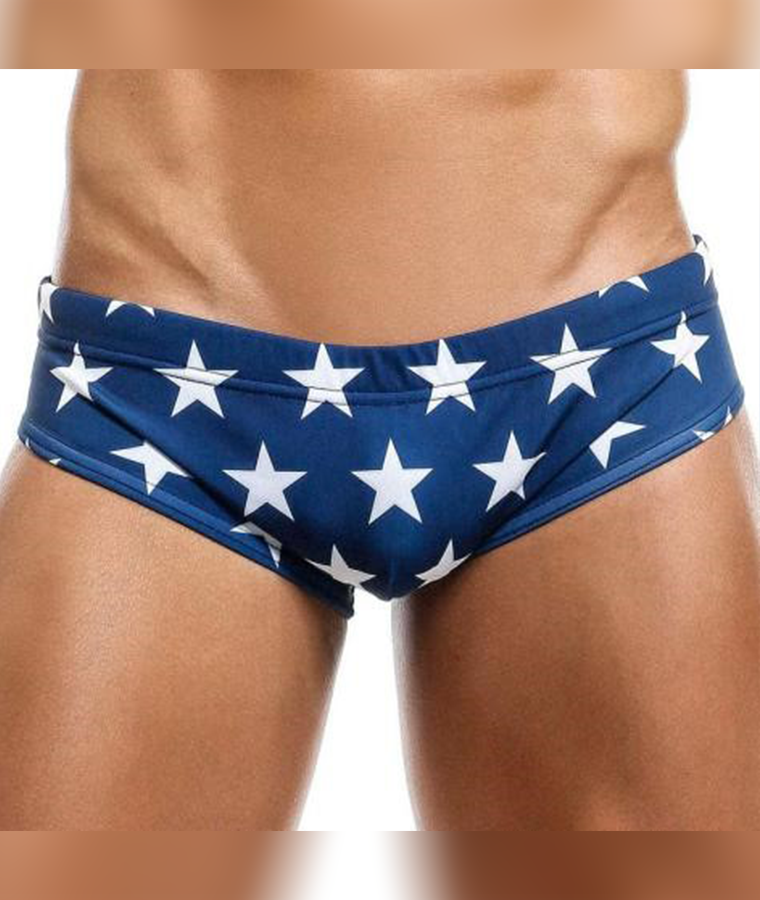 ---
Intymen ING061 Blue Stars Trunk
INTYMEN.COM
Price: $27.74
Print: Star
Intymen Blue Star male Trunks has been designed in quirky prints and is apt for those who prefer staying "weird" instead of "boring". These swim trunks for men are comfortable and supportive. If you looking for a pair of swimwear that can enhance your assets, look for these.
These are filled with other features such as moisture-wicking, stretchable, and capable of retaining its shape due to the fabric composition used in it, Polyester-spandex. For the betterment of your swimwear, stop washing it in the washing machine, scrubbing and ironing.
Fabric composition:
Polyester-spandex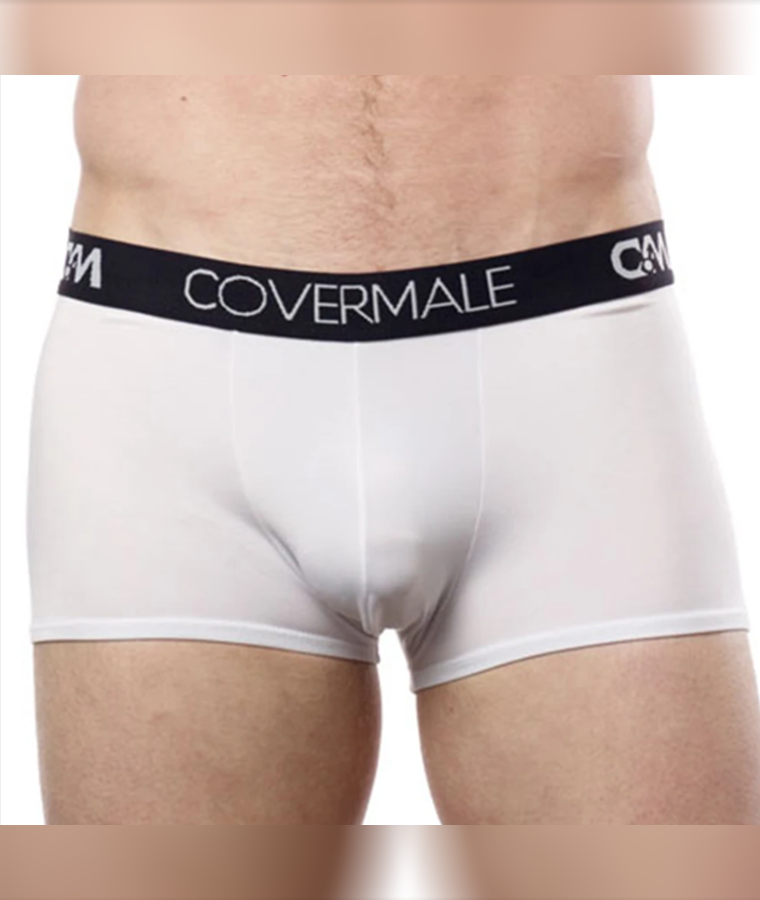 ---
Cover Male CM104 Waist Up Trunk
COVERMALE.COM
Price: $10.13–$26.01
Color: White
Cover Male swim trunk for men comes with modern touch. This pair of swimwear is the ideal example of class and sophistication. Its contour pouch is an expert in providing you comfort and support. Its broad waistband is enough for your security
Other features are snug-fit, well constructed pouch.crafted in moisture wicking and lightweight fabrics such and provide better fit as compared to other brands men's trunks.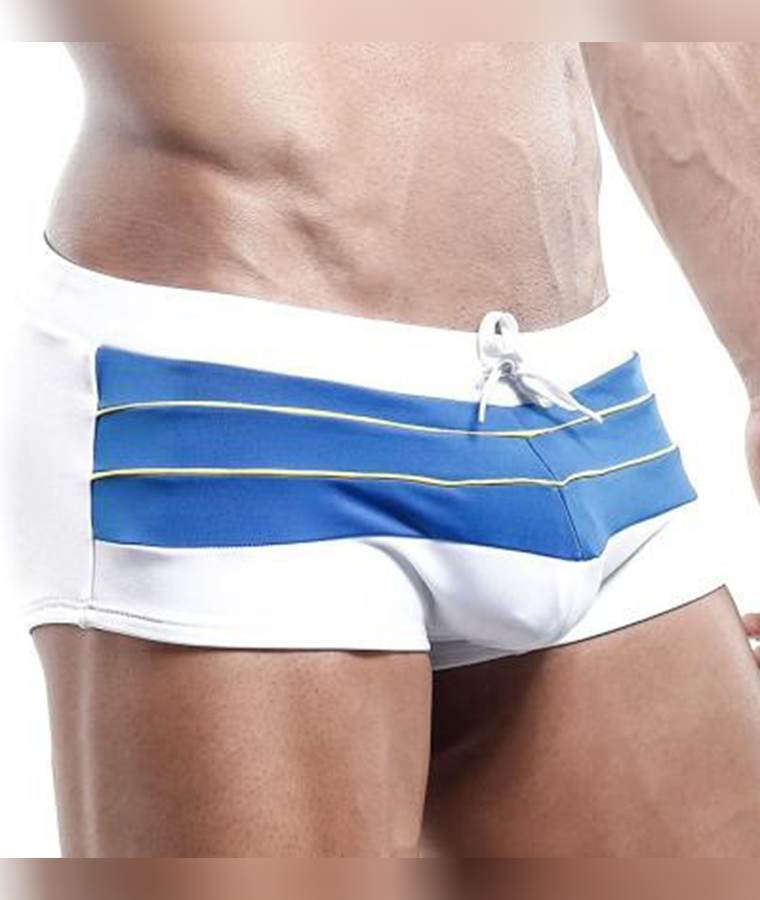 ---
Pistol Pete PPG005 Swim Boxer Trunk
MENSUAS.COM
Price: $22.97
Colors: White/Royal Blue
Pistol Pete Swim boxer trunk for men has been crafted in white fabric with a stylish blue color design at the front. These swim men's trunks include a knotted strap at the waist. This pair has been designed in such a way that all you will receive is a comfort during swimming. To provide coverage at the back, creators have provided white fabric for holding that sexy booty, making them the most desirable.
Fabric Composition:
78% Polyester 22% Spandex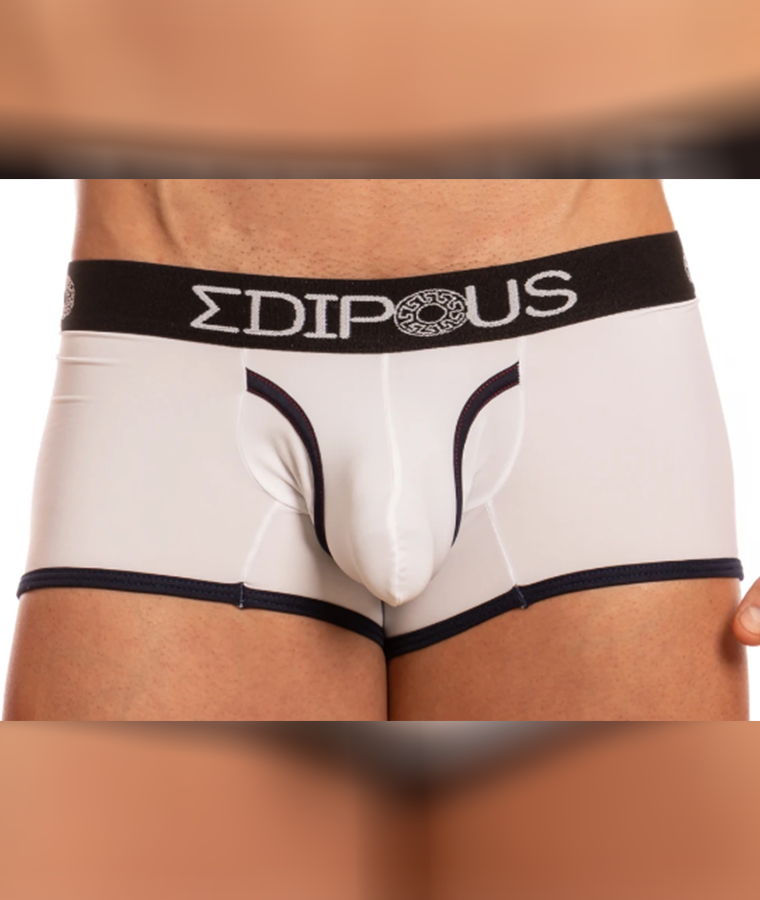 ---
Edipous EDG023 Quad Boxer Trunk
MENSUAS.COM
Price: $29.00
Color: White
Edipous as a brand is known for creating incredible male underwear for well-endowed man, this time they are all set to provide an incredible experience to your male genitals through Quad Boxer trunks for men. As a brand, they believe in giving some breathing space to your genitals and they do deserve that. This men's swimwear comes with a special pouch that is capable of holding a heavy load and offering a natural lift, that too without any additional c-rings or lifters, for better appearance. Men who love to flaunt their assets should give these a try.
Fabric composition:
Polyamide – spandex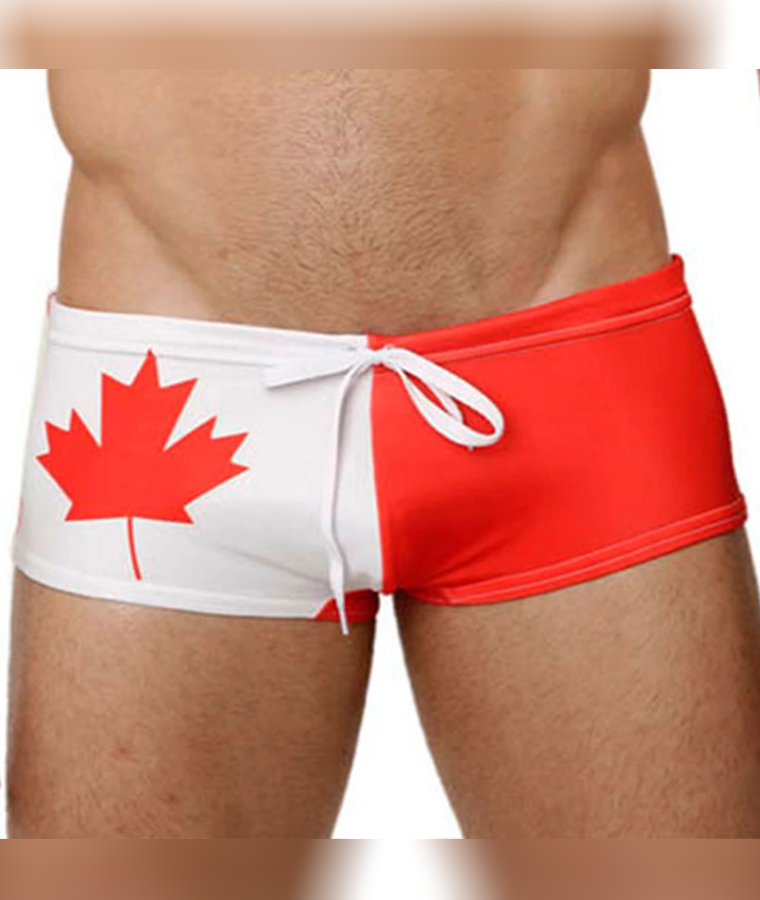 ---
Mensuas MN8004 Canada Flag Swim Trunk
MENSUAS.COM
Price: $22.03
Color: Multicolored
These Mensuas Canada Flag swim trunks for men are quirky and appropriate for those who likes to keep things colorful. These swim trunks for men are appropriate for your beachwear due to their strong fabric composition. Its drawstring offers great security. When it comes to staying comfortable Mensuas swim trunks for men is what you should go with.
Fabric composition:
83% Polyester 17% Spandex
Read more here:
Getting ready for your first date? Try WildmanT mens brief range.
Real men wear Calvin Klein boxer briefs
New Launch: Secret Male Lace Babydoll Mens Lingerie
Hot Underwear model Jerrod la rue in Calvin Klein Boxer Briefs
New Launches: Good Devil Mouthful Thong for men