Do you have a sexy booty? Do you think you love your booty? Well, if just said yes to the questions, why are hesitant in showing it off with Men's Jockstrap Underwear?
Do you think your booty needs a little work? Well, a pair of men's jockstrap underwear can do wonders for you. What do you think?
Do you want your underwear for men to be sporty or fashionable? Well, we've got you covered! We have put forth the 5 best mens jockstraps for all your needs and wants. Shall we go forth and check them out? Before we do that, let us take a small recap of where your airy friend came from.
A brief history of Men's Jockstrap Underwear
Beginning in the late 1800s, jockstraps were worn by males to cover their shmeat when playing competitive sports like soccer, football, and baseball. Later, mostly as a result of the LGBT community, the underwear evolution was recovered and developed into a more fashionable look to wear in more private guy-on-guy interactions. Nowadays, guys of all sexual orientations put on jockstraps whether having an intimate moment or just wanting to feel good about themselves. simply because they are so hot.
Now is the time that we move on to the 5 best male jockstraps for all your occasions in no random order.
1. Pistol Pete Racer Jock
When you are looking for something that's closely relevant to mens briefs with a sporty appeal, Pistol Pete is your go-to option. Furthermore, this Racer male jockstrap by the brand is a stunner. With a supportive solid pouch, the sides have sheer fabric. Therefore, your assets get all the air that they need for the big game. After all, the heat created when you're playing can lead to so many problems. For instance, constant sweating, itching, rashes, and more.
Thus, with the blend of 63.19% cotton, 26.25% polyamide, and 10.56% spandex, you get the comfort, support, breathability, as well as moisture-wicking features that your junk needs. Moreover, the butts are already packed, enhanced, and supported in the back.
2. ASOS Design Jock
The work of Asos Design is renowned for being occasionally out-of-the-box and trend-driven. Not the case with this jock's somewhat understated appearance. This straightforward everyday pair, a classic tighty-whitey in backless shape, can easily fit into your timed event. Except for a covert hip display, this tan pair is giving us complete frontal covering right now, and we're sort of gaga about it. As you could expect, it bottoms away from the back. We highly recommend this pair if you want to test the style but aren't ready to invest just yet because they are only £7.50 right now.
With a brief-like front, the 96% of cotton in the men's underwear makes everything so comfortable, soft, and breathable. 4% of elastane ensures you have the right stretch as well.
Let us go kinky now…enough of the sporty designs that are best for your sporty needs. Let us go fashionable now. Starting from part fashion part athletic purpose.
3. Male Power Cage Matte Strappy Ring Jock
Every guy fancies wearing something that stands out at some point in his life. This Male Power number certainly counts as one. With a matte finish pouch that acts as enhancing underwear for sure, the strappy detailing with metal rings in the back adjoining looks stunning. In fact, the sleek waistband holds everything in one place.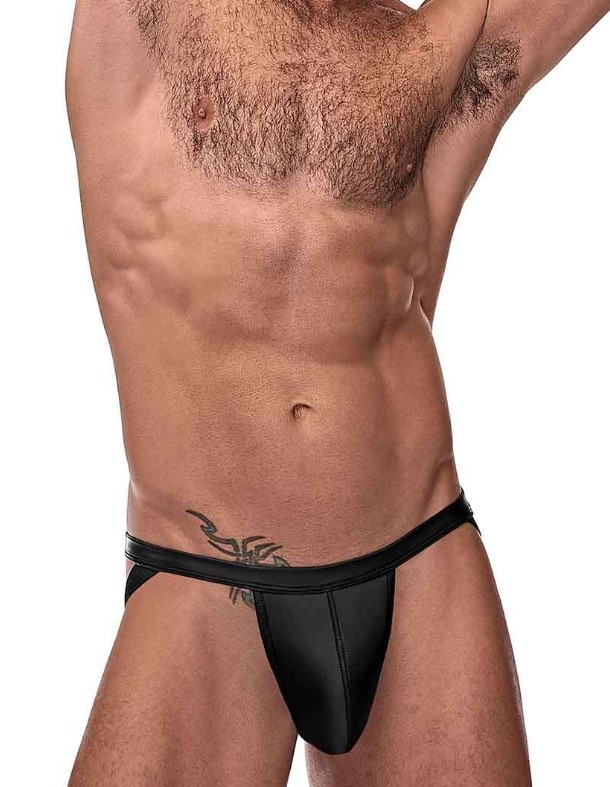 This men's jockstrap underwear is sharp, sexy, and provocative. The pouch definitely stands out and is a people's pleaser.
4. Secret Male Thruster Jockstrap
Nothing gets sexier than this! Nothing gets kinkier than this!! Secret Male is a sissy label with an enormous collection of mens lingerie. This Thruster jockstrap for men is an intricately designed option with lace and sheer. In fact, the stringy and strappy detailing makes it all the sexier.
Designed in polyamide fabric, you will love this number if you are looking for something that can make your bedroom action hotter.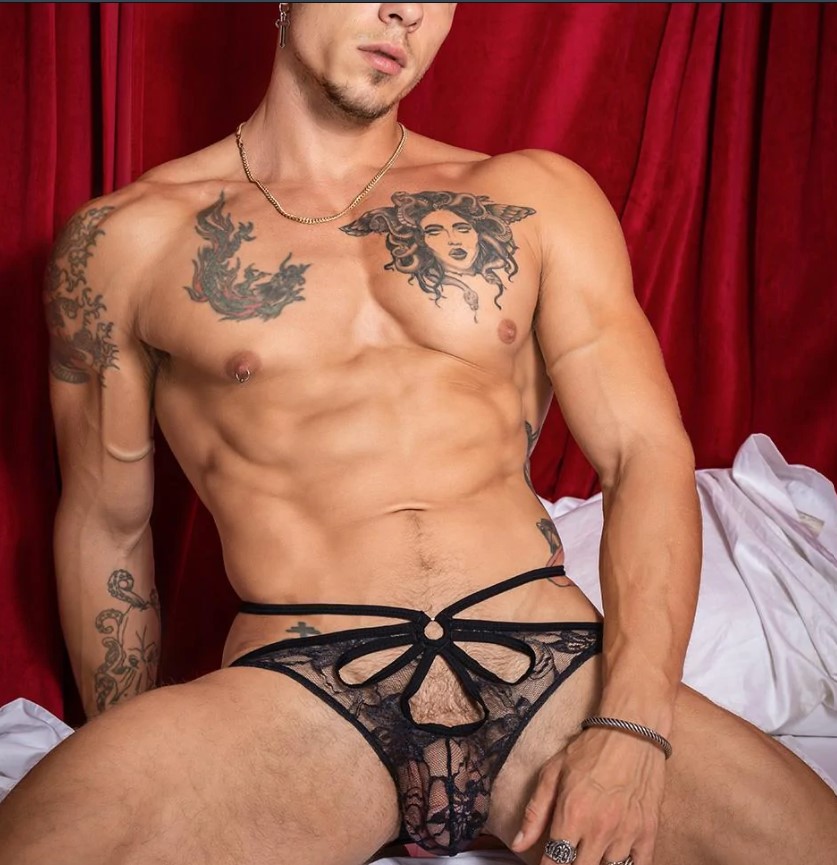 5. PPU Jockstrap
This seductive cutaway jock from PPU pushes and tugs the conventional jockstrap design in a whole new way, so check it out if you want to be a bit more daring. While this jockey supports your rear but not at all your frontal load, jockeys are typically made to aid. As shown in the image, there is only one little patch covering the genitalia, and four white stripes point the eyes in the right direction.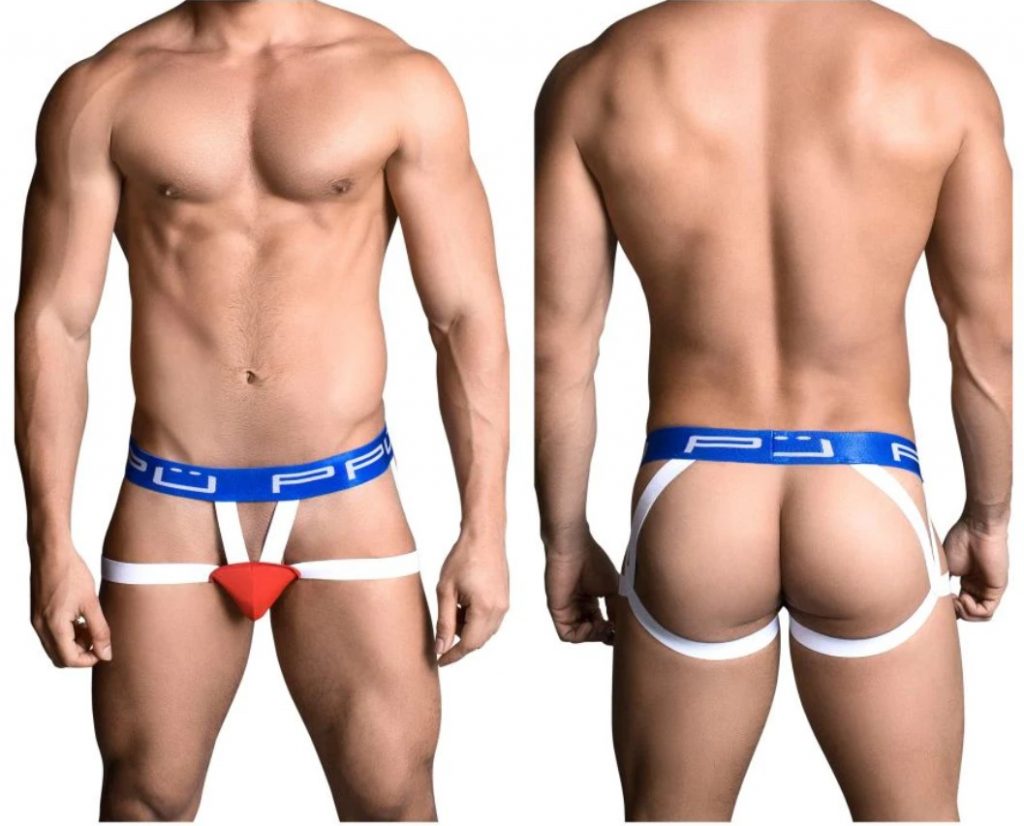 So, which of these men's jockstrap underwear would you like to invest in? Do let us know in the comments below.
You May Also Like:
Have you heard these assumptions about Mens Briefs?
Underwear Motivation: Koalaswim Panic Attack Bikini
Mens Gay Underwear brands to keep on your radar
Underwear Review: Ms. Camel Toe Transformation Shorts Male Pussy Look Micro Shorts