This comes as no surprise that the men's underwear world is divided into two halves – men's brief underwear and men's boxer briefs. All the other men's underwear styles are somewhere in the middle. Well, it would also be wrong to say that the world is changing and so are the underneath fashion trends. With styles like male bikinis and thongs for men, the male population has opened up to a variety that was never there.
When we say men's thongs, some of you might just nod your head and walk away but if you are still reading this and are on the same platform as us, this blog is a game-changer for you. We bring forth the top 10 matchless thong underwear for men that will make or break the way you see the men's sexy underwear and will open up options in male thongs for you – in case you want to try them for the very first time.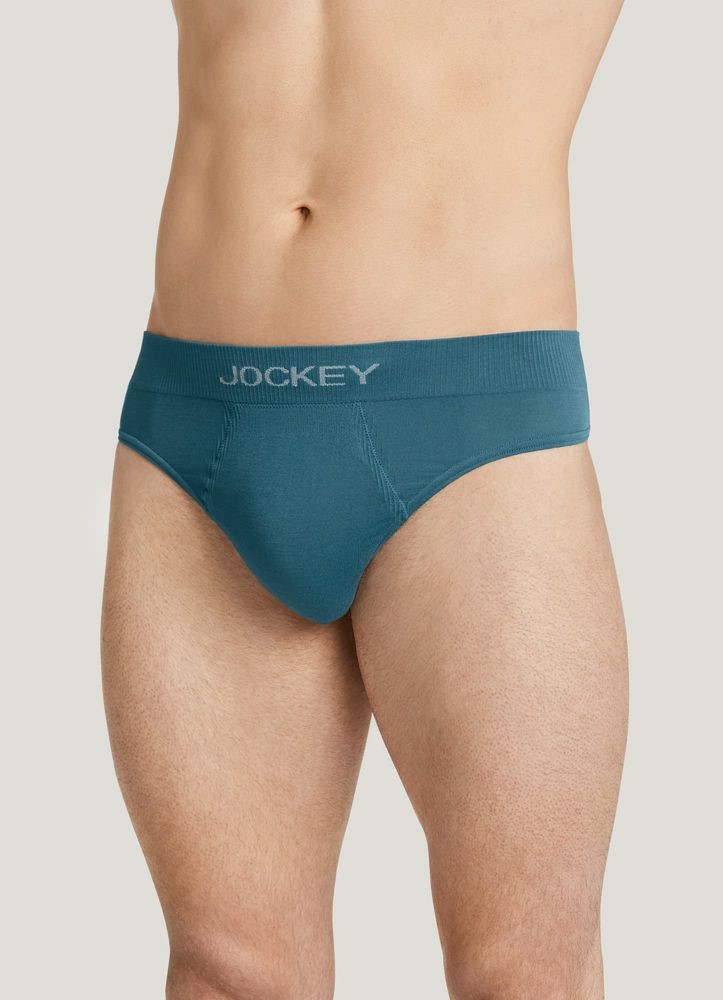 ---
Jockey Men's Underwear FormFit Lightweight Seamfree Thong
AMAZON.COM
Price: $9.99 – $19.99
The very first one on the top of the list is the Jockey FormFit Seamless thong underwear for men. Jockey has made its reputation in the underneath fashion industry by providing quality fit and comfort to the intimates. This one is a popular choice for it is comfortable – the seamless construction, form-fitted – the fabric hugs every inch of the skin and supportive – contours the manhood. Here is the fabric composition of the men's thongs:
SOLID Waist: 60% Modal/25% Nylon/14% Lycra® Spandex/1% Polyester; Body: 72% Modal/24% Nylon/4% Spandex; Gusset: 73% Modal/25% Nylon/2% Spandex
HEATHER Waist: 64% Modal/26% Nylon/9% Spandex/1% Polyester; Body: 70% Modal/25% Nylon/5% Spandex; Gusset: 69% Modal/28% Nylon/3% Spandex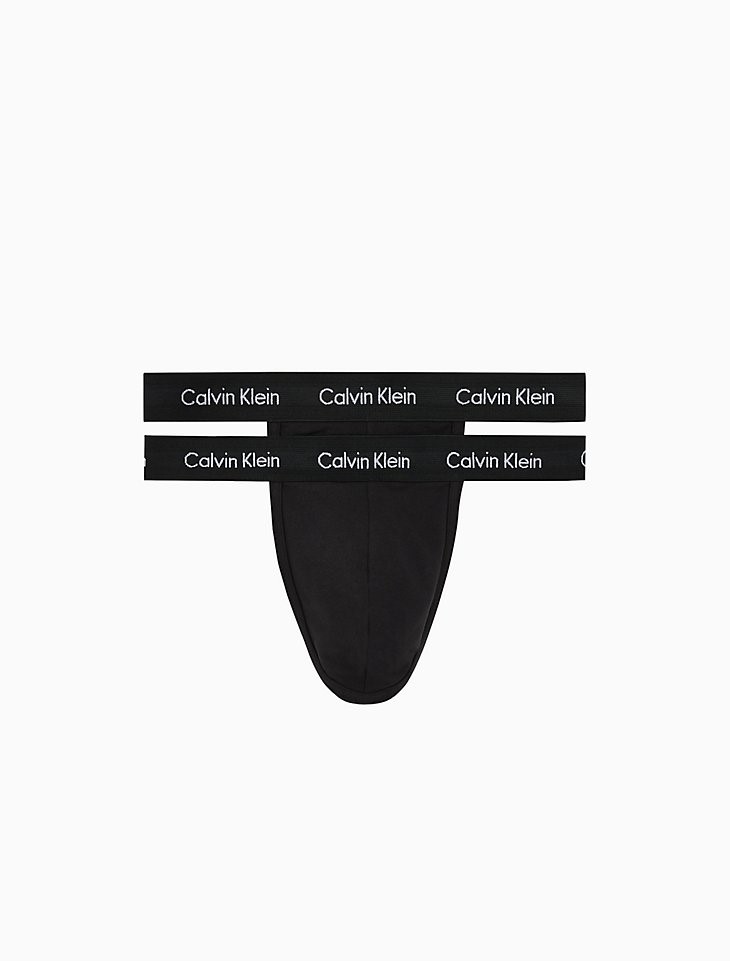 ---
Calvin Klein Cotton Stretch 2-Pack Thong
CALVINKLEIN.COM
Price: $32.50
When you want that extra comfort and softness to try something so skimpy, these men's fashion underwear by the good-ol'-favorite Calvin Klein are perfect. The softness of 95% cotton and the stretch of 5% spandex with a big pouch to hold everything in place, you can choose to wear these men's thong underwear for both works and play depending on your need. It is also a great product for first-time wearers.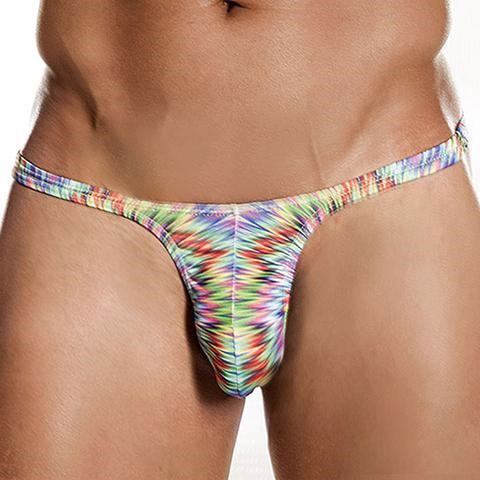 ---
Daniel Alexander Psychedelic Thong Sexy Classic
MENSUAS.COM
Price: $17.46
Daniel Alexander underwear came into existence in the year 2017 with the vision of providing really soft men's underwear styles. In addition, they made sure that they picked the conventional fashion underwear styles for men and made the pouch enhancing underwear with visually appealing attributes. The Psychedelic men's thong underwear by the brand features a cylindrical pouch that keeps the manhood upright and oh that bulge – so sexy!! The thin waistband makes things all the more erotic. It is made with 91% polyester and 9% Spandex.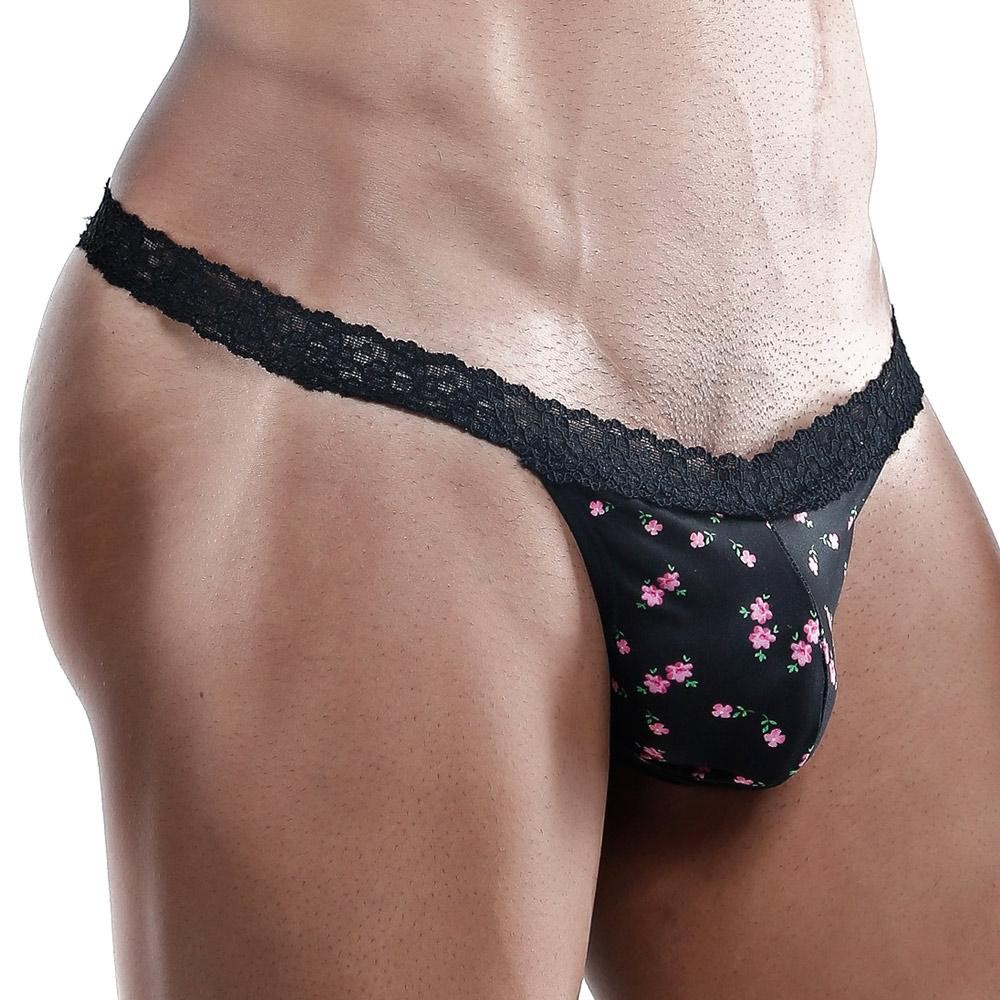 ---
Secret Male Thong
SKIVIEZ.COM
Price: $19.89
For men who take their male thongs way too seriously and love how the fabric caresses the intimate areas, this Secret Male thongs for men is a notch up. While there are thongs for men that are masculine and macho even when they cover itsy-bitsy but these are men's lingerie styles that only feel soft but look delicate and are absolutely feminine. With a floral pattern and waistband made of lace underwear fabric, you are sure to feel absolutely stunning down there. In fact, this men's thong underwear is an ideal option to give your manhood all the love it needs. Made with 78% polyester 22% spandex, you get a lot of stretch and shiny texture.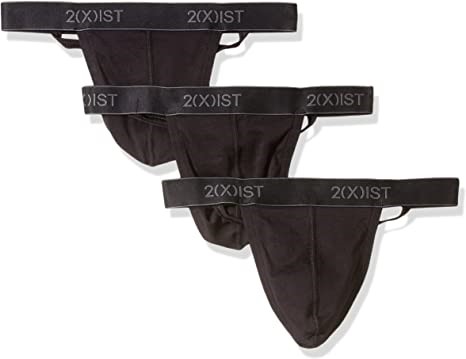 ---
2(X)IST Men's Essential Cotton 3 Pack Y-Back Thong
AMAZON.COM
Price: $20.40 – $41.74
This men's thong underwear by 2xist is designed pure 100% Combed Cotton which makes it naturally breathable and features a bold silhouette. The Y-Back thong underwear for men features the comfortable iconic elastic waistband and. The essential cotton Y-Back Thong's seamless design offers traditional appeal to an everyday basic. The thongs for men also features the signature Original Contour Pouch that provides extra support for the manhood. The back lets you flaunt the buttocks and keeps it comfortable and free.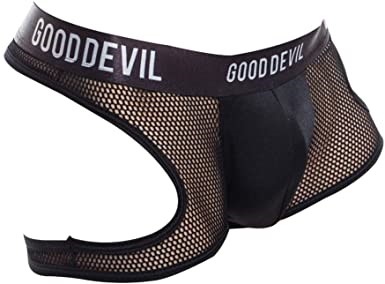 ---
Good Devil Cheeks Out Thong
MENSUAS.COM
Price: $20.79
When you seek a little more in terms of support yet love how men's thongs make you feel, this Good Devil underwear that looks like men's jockstrap underwear is apt for you. With a jockstrap-like leg band and mesh fabric all over, it is the pouch that stands solids and covered. The back features mesh underwear coverage like men's thongs should have. This is apt for men who like to keep it sturdy and supportive below the belt. Made with polyamide and spandex, you can choose from the various colors available.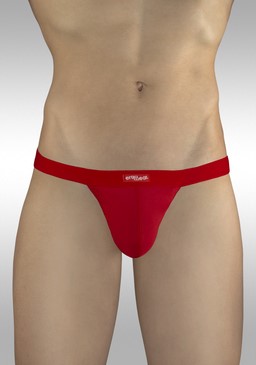 ---
Ergowear SLK Microfiber Thong
INTERNATIONALJOCK.COM
Price: $20.74
Ergowear underwear is quite a popular name in the men's underwear industry for the anatomical pouches it offers in the various collections. This SLK microfiber thong underwear for men is made with polyamide and spandex to keep the feel and fit stunning. The entire male thong is stitched together using flat-seam technology that minimizes chafing. The 3-dimensional ergonomic pouch on this thong lifts your genitals softly and keeps them out of reach of your thighs – a smooth hug for your most sensitive areas.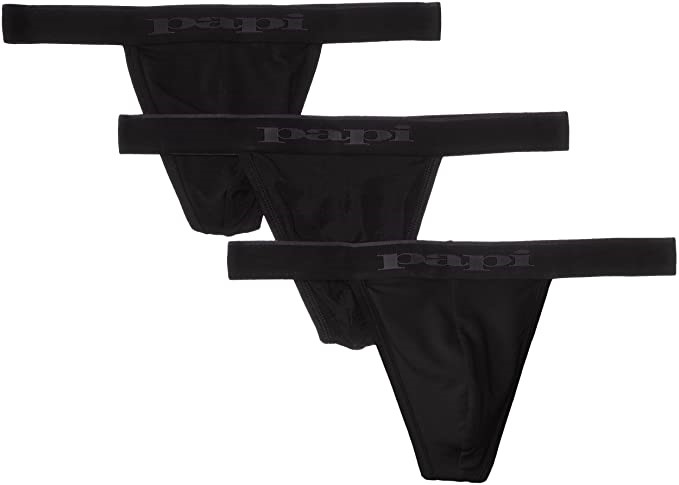 ---
Papi Men's 3-Pack Premium Fashion Cotton Active Stretch Thong
AMAZON.COM
Price: $14.38 – $24.99
The men's sexy underwear brand Papi promises this while offering these men's thongs – "Our thong has been designed to make you look great with a hook and eye closure system. With a seamless fabrication, these jocks are made from 95% cotton and 5% spandex to make you look and feel sexy all day!" The conventional thongs for men coverage with a flat waistband to keep things in place.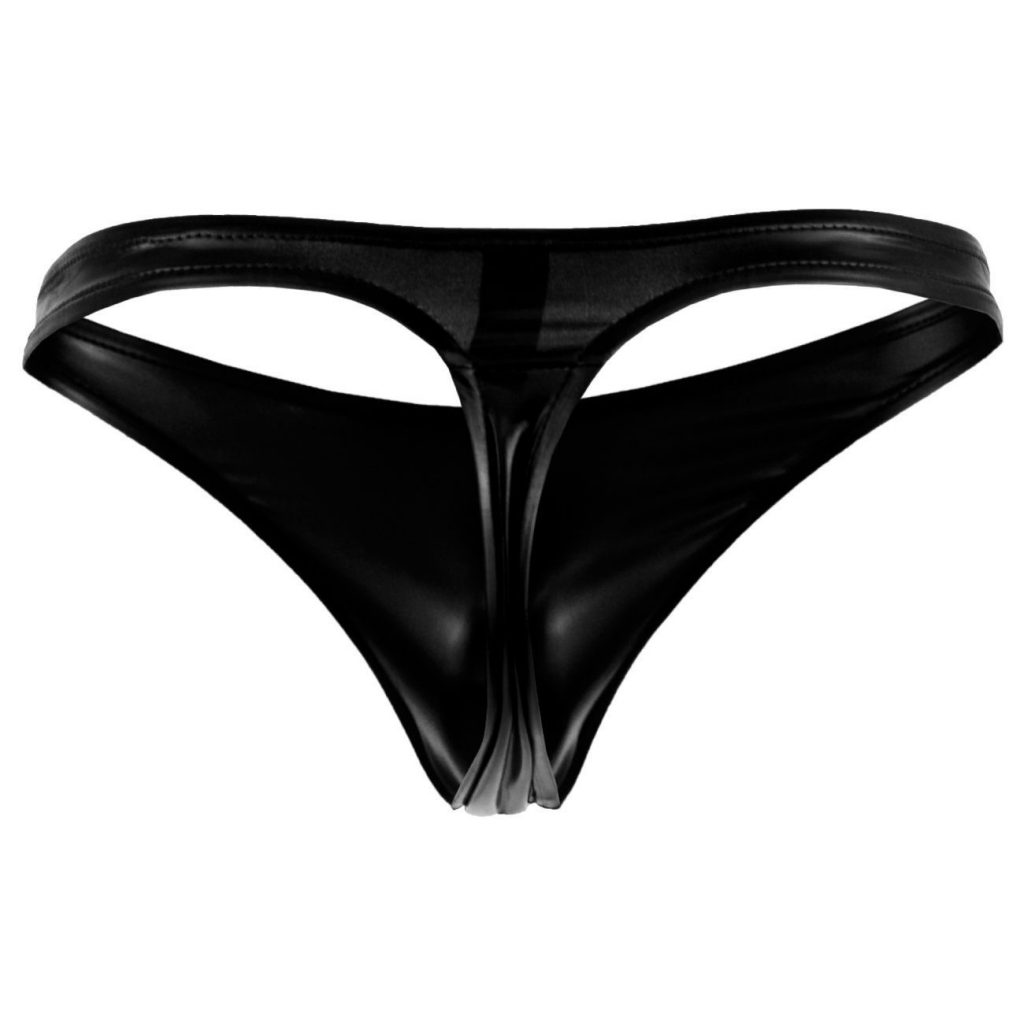 ---
Male Power Liquid Onyx Classic Thong
FRESHPAIR.COM
Price: $16
How can you say 'no' to something that is equally hot, erotic, and functional? This men's thong underwear by Male Power underwear is designed to put your fearless and wild side on the forefront. Made with 95% Polyester, 5% Spandex, it is the fluidic and lustrous fabric shine that catches all the attention.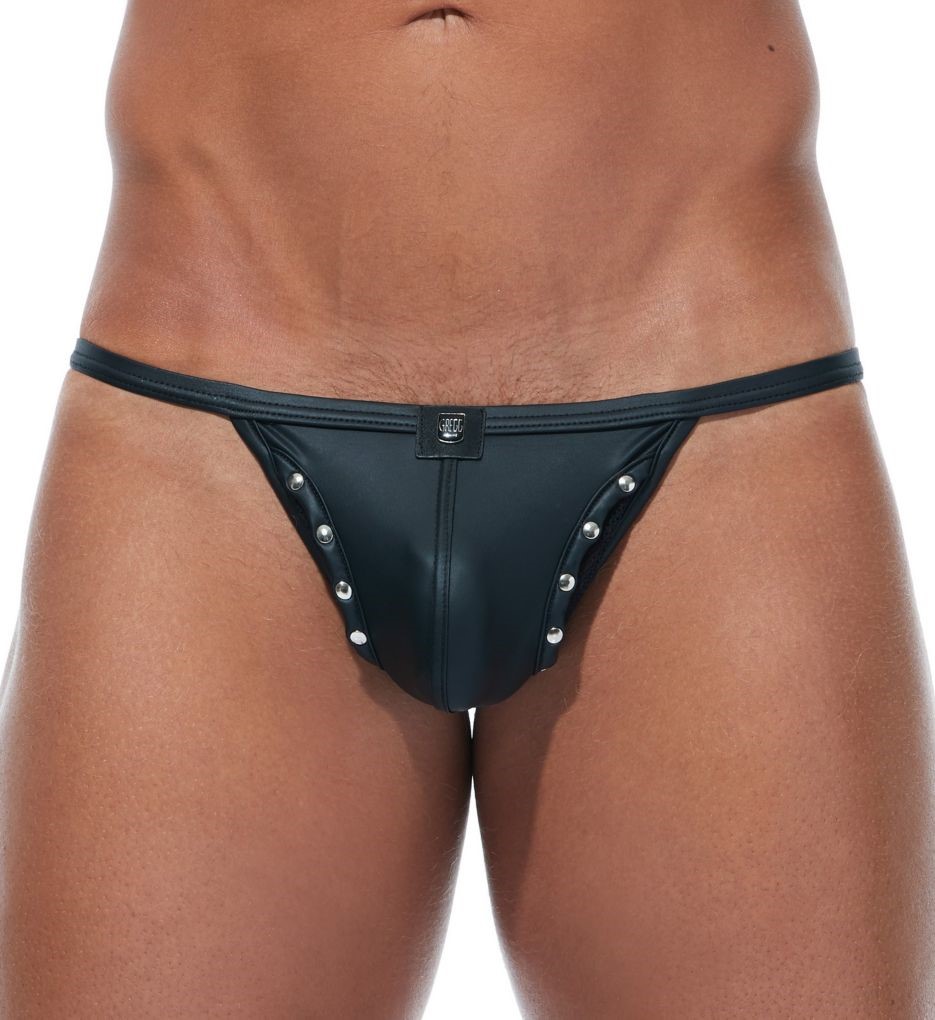 ---
Gregg Homme Scorpio Faux Leather Pouch
HISROOM.COM
Price: $47
Did you know that this Scorpio men's thongs are made with vegan leather? Well, the faux leather fabric is used to design this hottie that features a bold pouch with studs on the pouch sides. The center seam makes more room for the manhood while the back shows off everything. Made with 92% Polyester, 8% Spandex, you are in for minimal stretch and maximum shine on the fabric.
Read more here:
Thong underwear is the solution to every problem!
Have You Ever heard About National Underwear Day?
These male celebrities have stolen our hearts with sexy men's underwear
Is James Bond racist towards men's boxers or briefs for men?